When it comes to language and categorization, it seems that nothing is ever simple. At a young age, we learn that all squares are rectangles, but not all rectangles are squares. As adults, if we are spirits enthusiasts, we learn that all bourbon is whiskey, but not all whiskey is bourbon. And just when it couldn't get any more difficult, the Kentucky Derby comes around and has you craving a mint julep and wondering what differentiates a julep from a smash.
The word julep comes from the Persian word, گلاب (Golâb), which means rose water. However, this isn't very useful since juleps do not contain rose water. In Jerry Thomas' How to Mix Drinks he offers five mint julep recipes allowing whiskey, Cognac, brandy, gin, or sparkling Moselle as the base spirit. I particularly enjoy the 1916 recipe from the Greenbrier Hotel in West Virginia which describes it as "masses of fragrant mint that lay upon mountains of crushed ice". The traditional mint julep of Kentucky Derby fame is bourbon, muddled mint, and sugar or simple syrup. It's served in a silver julep cup with crushed ice and garnished with a hefty amount of mint. From the frosted tin to the mint bouquet, it's pleasing visually and aromatically, and meant to be sipped slowly. A smash is essentially a julep with less strict parameters, primarily the difference is the inclusion of seasonal fruit. All smashes are juleps, but not all juleps are smashes. The smash's seasonal fruit could be muddled along with the mint or other herbs, or could be used only as a garnish. Smashes are also similar to their cousin, the cobbler, which have wine or sherry as the base spirit.
I recently came across a new Art In The Age spirit which perfectly lends itself to seasonal fruits found in smashes. I've previously reviewed Art In The Age's ROOT, and was very interested when I saw the first of what they are calling their "farm to bottle" spirits. Their brand new Black Trumpet Blueberry Cordial is made with simple local ingredients in their New Hampshire distillery. The blueberries are hand-picked and the black trumpet mushrooms are foraged. The only other ingredients besides a grain neutral spirit and cane sugar are lavender and lemon-verbena, which are grown on-site. Diving in, the first thing I was curious about was the black trumpet mushrooms, and, rest assured, it doesn't taste like mushrooms. While I've never had the pleasure of enjoying black trumpet mushrooms, in my research I learned that they are prized for their flavor which is similar to morels. I even found accounts of people infusing white wine with them and various dried fruits, so using them in a cordial isn't as crazy as it may seem. On the nose, the Black Trumpet Blueberry Cordial is earthy and jammy. It smells like a fresh blueberry harvest. On the palate it succeeds at maintaining that blueberry flavor with added complexity and without being overly sweet or syrupy. For a cordial, it's more on the dry and bitter side with a savory umami body, which I find desirable. This allows for flexibility when using it in a cocktail so enough can be used to get the blueberry flavor without the drink becoming too sweet.
Art In The Age has two suggested recipes, one is a bourbon smash and the other is a berry-basil gimlet. I went the route of the smash, but deviated slightly and used brandy instead of bourbon. I wanted to keep the sweetness, but have the cocktail be a little more fruit-forward. I chose Germain-Robin Craft-Method brandy, but you could use another brandy or cognac. A julep tin makes for a beautiful presentation, but if you don't have one, a tall glass will do. Personally, I think the ice is key to this cocktail, so you can purchase a bag of it somewhere like Sonic or use a Lewis bag and crush the ice at home. If you're willing to spend the money, there is the GE Opal Countertop Nugget Ice Maker. It's also important to place the straw in the tin before packing all of the ice, and to place the mint sprig garnish near the straw so you get the aromatics with every sip. With the Kentucky Derby this week, now you not only know the difference between a julep and a smash, but have a unique option to make a brandy smash with Art In The Age's Black Trumpet Blueberry Cordial.
---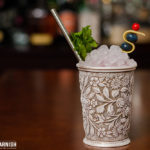 Print Recipe
Black Trumpet Blueberry Brandy Smash
Ingredients
2

ounces

Germain-Robin brandy

1

ounce

Art In The Age: Black Trumpet Blueberry Cordial

1

tablespoon

lemon juice

½

ounce

simple syrup

fresh mint leaves
Instructions
Place 7 or more small mint leaves in the bottom of the julep cup. Muddle lightly.

Fill halfway with crushed ice, then add brandy, Black Trumpet Blueberry Cordial, lemon juice, and simple syrup.

Stir until the julep cup is frosted, then top and pack with more crushed ice.

Garnish with fresh blueberries and a large mint sprig.
---
Additional Resources:
Purchase Art In The Age Black Trumpet Blueberry Cordial
Imbibe's History of the Smash
My Review of Art In The Age: ROOT
Kentucky Derby
Tamworth Distilling
Gear:
Julep Cup
Lewis Bag
Metal Straw
---
I created The Humble Garnish because I'm passionate about cocktails. Occasionally, I am provided with products for review or other perks. Many product links on this site are affiliate links that give me a very small kickback, and costs the buyer nothing extra. For example, as an Amazon Associate, I earn from qualifying purchases after a link leading to Amazon is clicked. Other links may earn me affiliate commissions as well. This helps offset the cost of creating content for the site – things like camera gear, software, alcohol, glassware. I have at times accepted and at other times declined free products. I promote what I love and use, and rarely will write about a product that I don't appreciate or own. If I don't like a product or service, I often simply choose not to write about it.

– Andrew