When you are looking for a simple low-alcohol cocktail with complex flavors there is a specific type of cocktail to fill the void – the "shim". I purchased The Art of the Shim at least a year ago, and sadly I haven't gone through many of the recipes until recently. The book defines a shim as "a cocktail containing no more than half an ounce of strong spirits – those of 40% alcohol by volume or higher." Therefore, shims contain less alcohol than an average glass of wine. The premise of the entire book is "more drink, less drunk". If we really treat the cocktail experience as a culinary one, there really is no truer statement.
The Diplomat is a shim featured in the book which dates back to 1922. Robert Vermeer's 1922 recipe in Cocktails: How to Mix Them calls for 1½ ounces of dry vermouth, ¾ ounce of sweet vermouth, and 2 dashes of maraschino liqueur. I chose to feature the slightly modified recipe featured in the book. It's worth noting that the vermouth you choose will always make a difference, and even more so with a drink where vermouth is the base spirit and a modifier. Of all the times to skimp on vermouth, this is not the time. Dolin is a personal favorite, and for this recipe I decided to add the Cocchi Rosso Vermouth de Torino that was suggested to my home bar. In a shim, a lower quality vermouth will simply not give you the full complexity – "splurge" and purchase a quality vermouth. I can almost guarantee that it will be cheaper than the average bottle cost per spirit on your home bar.
Cheers!
– Andrew
---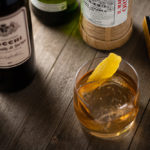 Print Recipe
The Diplomat
Instructions
Combine ingredients and stir in mixing glass with ice.

Strain into rocks glass containing a large ice cube.

Garnish with an expressed lemon peel.
---