First, let's set the record straight. The negroni is an iconic classic. A powerful, bold, and bitter union between Campari, gin, and sweet vermouth, distributed in equal parts. The recipe template is versatile and adapts well to experimentation, just be wary of naming any riffs a negroni lest you offend the members of the cocktail's cult-like following.
Most importantly of all, if you're creating an alcohol-free negroni recipe, stay away from the puns. Faux-groni, Nogroni, NA-groni (NA = non-alcoholic), Low-groni, etc.. A non-alcoholic negroni recipe is about as far from the all-booze cocktail you can get.
For the classic negroni, the choice of gin and sweet vermouth are open to experimentation, however, the use of Campari is non-negotiable. That said, I'll admit to swapping out Campari with Cappelletti on occasion, and even referring to the cocktail as a negroni. Some rules can be bent, right?
If you insist on creating an alcohol-free negroni, I've researched and taste tested non-alcoholic and alcohol-free alternatives to recreate the negroni.
My general advice is to steer clear of "low and no" alcohol negroni recipes because you're generally setting yourself up for disappointment. That said, let's see if we can make something that's passable.
Non-Alcoholic and Alcohol-Free Campari Alternatives
Of all the cocktails one could create a non-alcoholic counterpart to, a negroni presents itself as one of the more challenging. Despite its equal representation among ingredients, Campari dominates the flavor profile, and finding an alcohol-free alternative to Campari was the greatest challenge. I came across various recipes calling for ISI whipper rapid infusions, substituting with Sanbittèr, as well as some "Italian Orange" non-alcoholic spirits. (Read my Sanbittèr review here.)
The beauty of the negroni is in its simplicity and ease of mixing. For that reason, I'd rather not pursue rapid or multi-step infusions. And while Sanbittèr does make a delicious negroni-like cocktail, I'd prefer a version that is more true to the classic and is not carbonated. As for the alcohol free Italian Orange spirit, let's just say it tasted like more of an essence of Campari. While delicious, it lacks the bitterness and viscosity needed to craft a negroni-like cocktail.

I came across some other possible Campari substitutes, but they are not currently available in the United States. These included Æcorn Bitter, Monin Bitter Der Apéritif, and Fabbri Mixybar Bitter.
I assumed I was out of luck until I discovered Giffard Aperitif Syrup! French producer, Giffard, is well-known for its wide selection of liqueurs, and syrups. Their Aperitif Syrup is the perfect alcohol-free alternative to Campari. It has the same thick consistency, and, most importantly, a very bold bitter orange flavor that is followed by strong notes of gentian. I find the gentian provides a dryness on the palate that is akin to Suze. Giffard's syrup is not as citrusy as Campari, but that is easily amended in the cocktail recipe.
Non-Alcoholic and Alcohol-Free Gin
With the most challenging part out of the way, the alcohol-free substitutions for gin and sweet vermouth were much simpler. One gin alternative that I sampled was a complete pass—it tasted like detergent. Another option was DHŌS Gin-Free. I've reviewed this gin alternative and scored it highly, but with the prominence of menthol notes, it wasn't the right fit for a negroni. After sampling several gin alternatives, I selected MONDAY Zero Alcohol Gin.
MONDAY Zero Alcohol Gin gets everything right. Beautiful aromatics, a good mouthfeel, and lingering notes of juniper, citrus, and cucumber. What sells it as the perfect gin for an alcohol-free negroni is the lingering bitterness.
Non-Alcoholic and Alcohol-Free Sweet Vermouth
The list of options for non-alcoholic vermouth is much shorter. I'd imagine it's a combination of the difficulty of replicating the complexity and lower market demand. For my non-alcoholic negroni recipe, I went with Lyre's Apéritif Rosso. Two other options that could be worth exploring are VERSIN and Blutul. I'll be testing them at a later date.
Lyre's Apéritif Rosso is delicious. If you served it to me blind, I might even mistake it for real vermouth. Some of the flavor notes are reminiscent of Cappelletti, despite the two being categorically different. Perhaps it's because Cappellitti uses wine as the base for its bitter red aperitivo. Lyre's uses non-alcoholic fermented grape juice as the base, but other ingredients fall under that nebulous category of "natural flavoring". While the flavors aren't authentic, I get notes of citrus and heavy vanilla on the nose. The flavor isn't as complex nor does it linger as long as in authentic vermouth, but it's a worthy selection to create a non-alcoholic negroni.
Bitters and Aromatics
The ingredients mentioned to this point get us about 90% there, and this is where we draw a line in the sand.

If you include bitters in this negroni recipe, it transitions from an alcohol-free negroni to a non-alcoholic negroni—maybe. Bitters contain alcohol, and a few dashes of these high-proof extracts can increase a drink's ABV surprisingly fast. In my collection of bitters (nearly 50 types), the alcohol content ranges anywhere from 28% ABV to 51% ABV.
Due to brand variations in bitters bottles and dashing technique, it's hard to judge the amount of alcohol contributed when your recipe's measurement is a "dash". In my quick tests, a dash of Bitter Truth yields anywhere from .53ml to 1.18ml, while a dashes of Regan's Orange ranges from .34ml to 1.66ml. Factors like how full the bottle is, the angle of your dash, and the speed/force of your dash have a relatively large impact. Why does it matter?
In the U.S., non-alcoholic is defined as less than 0.5% alcohol by volume. The formula to determine a cocktail's ABV is simple. For each ingredient, multiply the percentage ABV (in decimal form) by the volume of the ingredient. Next, add those amounts for each ingredient. Then divide that result by the recipe's final yield. (Here is a link to a handy Google Spreadsheet that'll do the calculations for you.)
Generally, I'd consider this calculation to be splitting hairs, but some prefer to abstain entirely from alcohol for various reasons. The inclusion of bitters could make a cocktail up to 1% – 2+% ABV (depending on the variables), and therefore it would no longer be considered non-alcoholic.
In simple terms…
Now that the disclaimer is out of the way, I find that including Bitter Truth's Tonic Bitters (43% ABV) and Regan's Orange Bitters (45% ABV) tie together this negroni-esque recipe, but they push the recipe's alcohol percentage to around 1.39% ABV. (Disclaimer: This is a roughly measured amount.) For reference, 1.5% ABV is roughly the level found in a strong kombucha.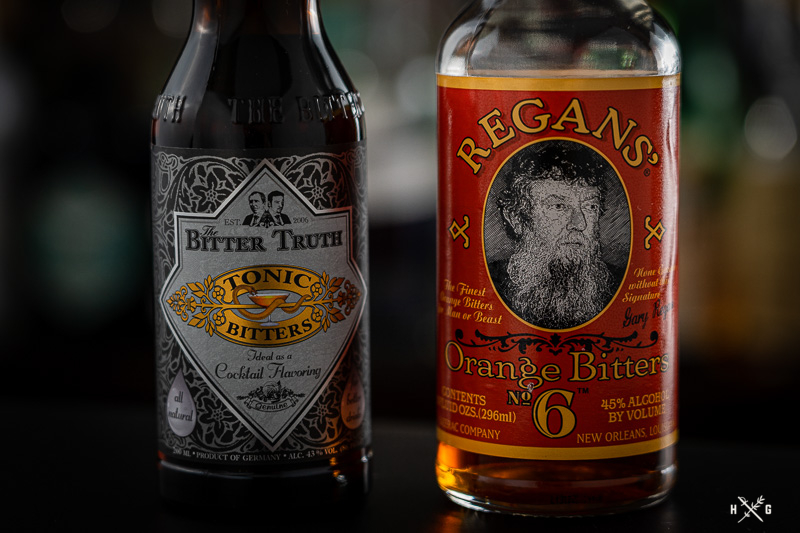 If that's worrisome, simply omit the bitters or use less of them. Use my cocktail ABV calculator to see how much wiggle room you have. If you only use 2 dashes of Bitter Truth Tonic Bitters, you'll be at around 0.87% ABV in the final recipe. In either case, garnishing with an expressed orange peel is a must. This brings back the citrus aromatics that aren't as prominent in the Giffard Aperitif Syrup.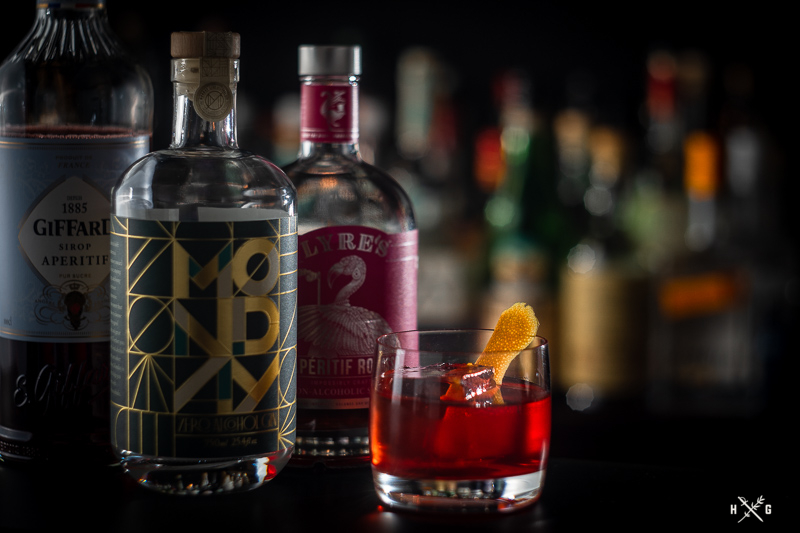 Conclusion
Making a non-alcoholic negroni is a challenge, but it is possible to make a delicious low-alcohol version. With the right combination of ingredients and technique, a non-alcoholic or low-alcohol negroni could pass for the real thing. However, if you don't have a particular reason to make one, opt for the standard full-octane version.
P.S. – If you're a negroni fan, be sure to check out my negroni print in my online shop!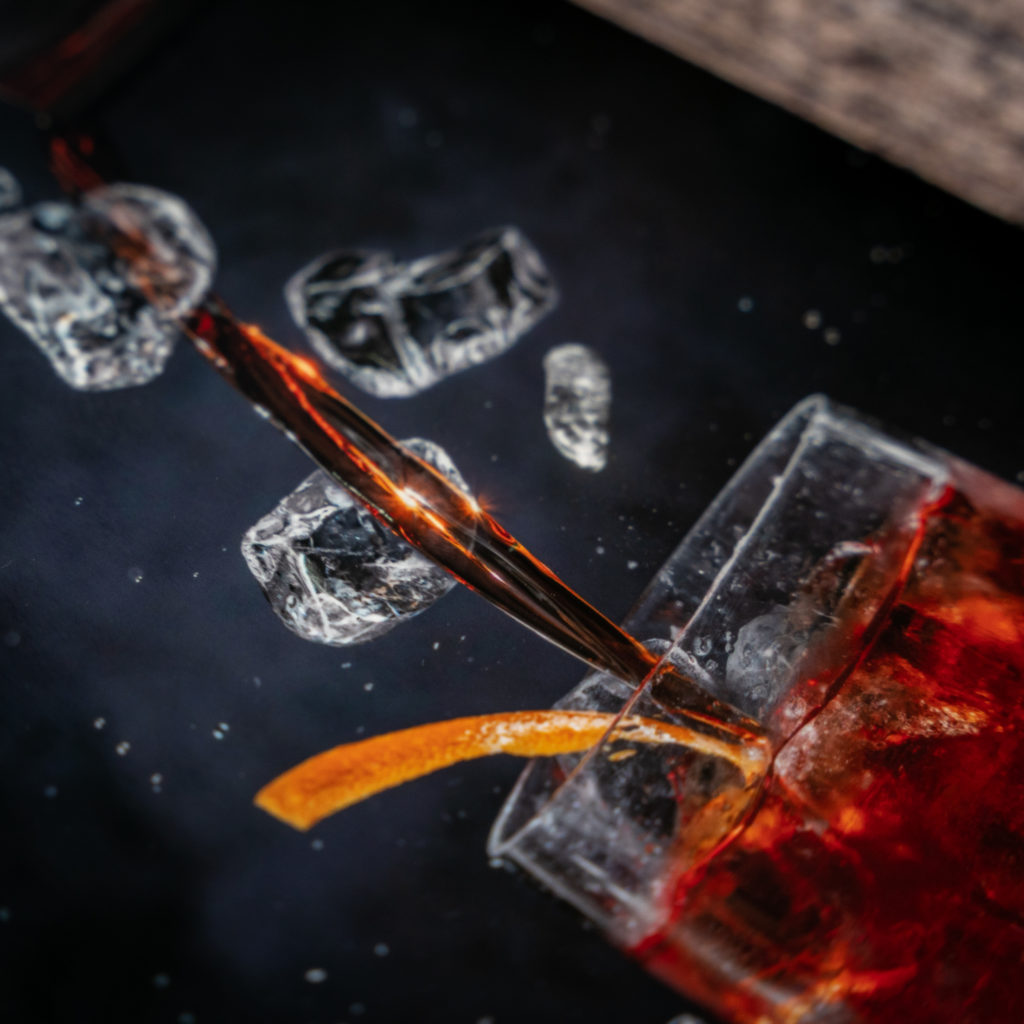 ---
Recipes
Here are my recipes for a low-alcohol negroni and an alcohol-free negroni. The only difference in these two is the bitters. Again, remember that the ABV is my best estimate. I averaged various dashes from separate bottles to arrive at an average volume per dash.

P.S. – If you're looking for general tips on making better non-alcoholic drinks, be sure to check out my article, 9 Pro Tips to Create Impressive Alcohol-Free Cocktails.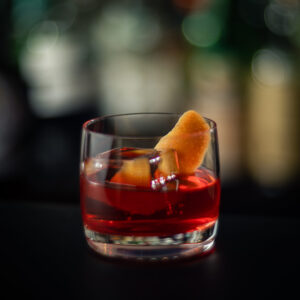 Print Recipe
Low-Alcohol Negroni
This low-alcohol negroni recipe comes about as close to the real thing as you'll get. The small amount of alcohol is from the use of cocktail bitters, and it results in a cocktail that is roughly 1.39% ABV.
Instructions
Combine ingredients in a rocks glass filled with ice and stir until chilled.

Garnish with an expressed orange peel.
---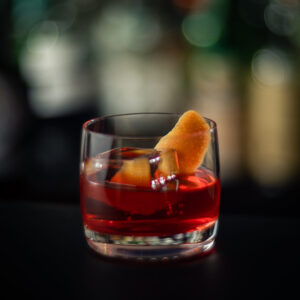 Print Recipe
Alcohol-Free Negroni
This zero-alcohol negroni recipe comes about as close to the real thing as you'll get. If you're okay with contributing a small amount of alcohol by using bitters, be sure to check out my recipe for a Low-Alcohol Negroni.
Instructions
Combine ingredients in a rocks glass filled with ice and stir until chilled.

Garnish with an expressed orange peel.
---
Additional Resources:
Purchase Links
Official Sites
Other