This one is for the Negroni fans.
Sanbittèr is an Italian red bitter style soda that comes in perfectly dosed 3.4 ounce (10 cl) bottles. In the U.S. we know San Pellegrino mostly for their sparkling mineral water and a few citrus sodas, however, in Italy they are known for a much wider selection which includes citrus sodas and unique bitter sodas, Sanbittèr and Chinotto.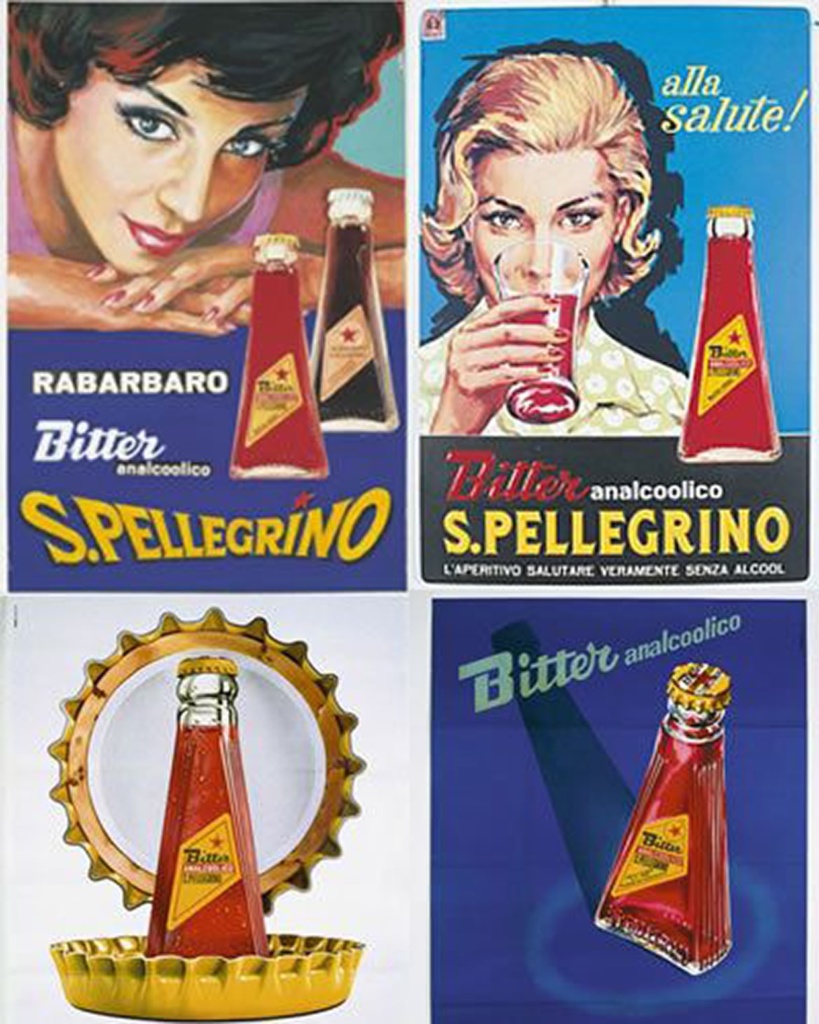 San Pellegrino's website contains a history of their drinks but oddly excludes Sanbittèr. Based on what I've read, the drink was originally launched in 1961 and called Bitter Sanpellegrino. It wasn't until the 1980s that it was shortened to Sanbittèr.
Flavor Profile of Sanbittèr
Sanbittèr is very similar to Campari, with a bold bitter orange flavor and notes of grapefruit. A key distinction is that Sanbittèr contains no alcohol. It's mildly carbonated and refreshingly dry on the finish. Despite the bitter profile, it is fairly sweet, with 15.8g of sugar per bottle. That said, I find that a single bottle is a perfect amount to satiate my need for bitter flavors.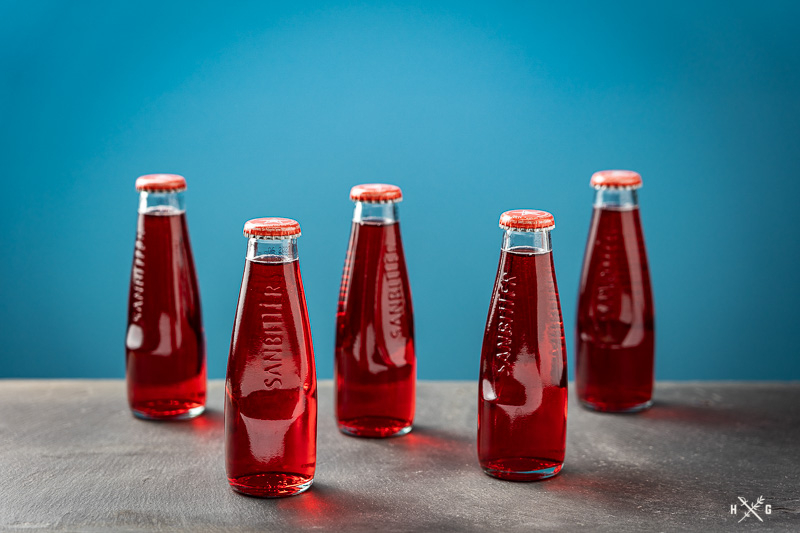 How to Drink Sanbittèr
Sanbittèr is a great option to drink on its own when you're not enjoying an alcoholic cocktail. You could mix it with gin, but I'm not sure why you would—just opt for Campari if you want a cocktail.

I enjoy Sanbittèr served in a chilled glass over a large clear ice cube, with an expressed orange or grapefruit peel to garnish. If you find the flavor too bold or want a little more fizz, top it off with a little club soda.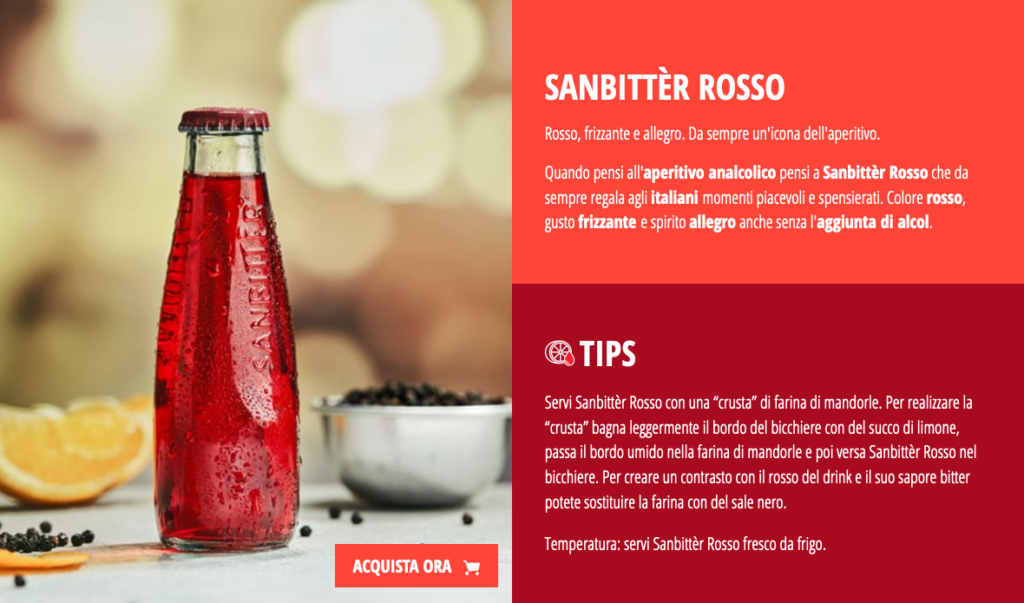 On the official Italian Sanbittèr page, it's suggested to serve the aperitivo with a "crusta" of almond flour or black salt. To do this, simply use the same method you would to rim any glass. Rub the rim with a lemon, then gently roll the glass' rim across the almond flour or black salt.
While bitter sodas like Casamara Club's Amaro Soda may lead you to think dry bitter sodas are a new trend, it turns out they are only new to U.S. consumers. Bitter Italian sodas have been available in the U.S. for a while, but they were relegated to specialty markets. Now you can simply order them online in a convenient 10-pack.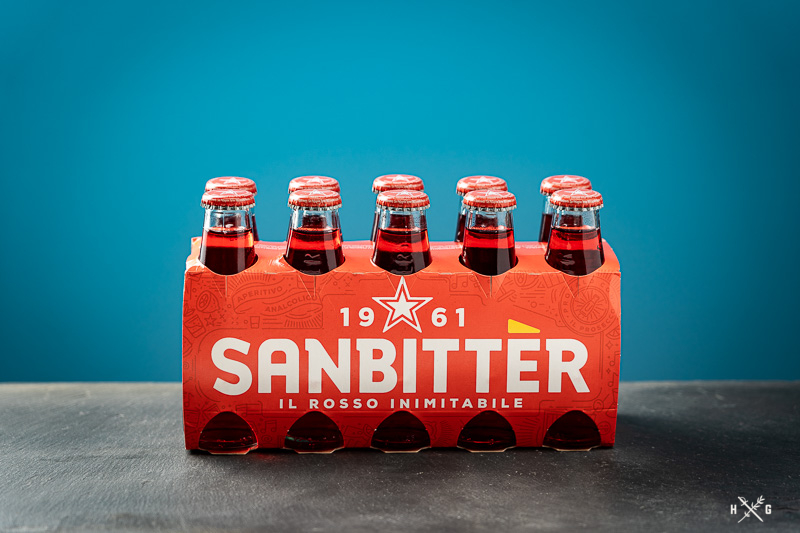 While I'm not sure that U.S. imbibers will ever be as head over heels for bold and bitter flavors as the Italians, I think that Sanbittèr deserves a spot in every cocktail enthusiast's fridge.
On that note, I've finished sipping my afternoon Sanbittèr, so I'll leave you with the first vintage commercial for Sanbittèr. I'm hoping to feel some of their same level of pep, but I may need another cup of coffee.

Saluti!

Okay. A few more. Italians really seem to enjoy singing about their Sanbittèr.
---
---
---
---
Additional Resources
Official Sites and Social Media
Design and Art
Tasting Notes and Miscellany
P.S. – There is no substitution for moderation, but there are two supplements that I take when I'm doing a reset. Traditional Medicinals Organic Detox Tea and this Liver Cleanse Detox and Repair supplement. Just keep in mind that I'm not a doctor, and this isn't medical advice.
---
I created The Humble Garnish because I'm passionate about cocktails. Occasionally, I am provided with products for review or other perks. Many product links on this site are affiliate links that give me a very small kickback, and costs the buyer nothing extra. For example, as an Amazon Associate, I earn from qualifying purchases after a link leading to Amazon is clicked. Other links may earn me affiliate commissions as well. This helps offset the cost of creating content for the site – things like camera gear, software, alcohol, glassware. I have at times accepted and at other times declined free products. I promote what I love and use, and rarely will write about a product that I don't appreciate or own. If I don't like a product or service, I often simply choose not to write about it.

– Andrew