Looking to better practice moderation and mindful consumption, I was excited to come across DHŌS non-alcoholic spirits. With this category seeing exponential growth, one can only hope we're beyond the point of someone's choice to cut back or cut out being a surprising statement. What I find exciting is exploring the growing number of options available in the "low and no" category. DHŌS launched in late 2020, and is an offshoot of Ransom Spirits. They currently offer three alcohol alternatives—Gin-Free, Orange, and Bittersweet. After tasting their lineup individually and in various recipes, I'm ready to share my full review of DHŌS non-alcoholic spirits as well as some zero-proof cocktail recipes for each of their flagship bottles.

However, to best understand how these products fit into your home bar, a quick primer on the category is needed.
What is an Alcohol Alternative?
The alcohol alternative category is one that is muddied by marketing and, as a result, frequently misunderstood by consumers. Non-alcoholic, zero-ABV, alcohol-free, zero-proof, spirit-free—these are all terms used to describe alcohol alternatives. This is where it's worth noting the subtle yet significant differences in terminology.

According to the FDA, non-alcoholic and alcohol-free are not synonymous. To be labeled alcohol-free, there cannot be any detectable level of alcohol. Whereas products labeled non-alcoholic must contain less than 0.5% ABV. It's worth noting that trace amounts of alcohol are also found in everyday food and drink including fruit juices, sodas, breads, and condiments. These trace amounts are negligible.

To create spirit alternatives, there are two methods—distillation or a blend of maceration and infusion. Producers using the distillation method often use neutral grain alcohol in their process, and then remove it before bottling. I say often because there is also water distillation that uses steam (water vapor as opposed to alcohol vapor) to extract volatile compounds. Products created using the ethanol distillation method will likely still have trace amounts of alcohol in them. DHŌS does not use alcohol in their production process.
Review of DHŌS Non-Alcoholic Spirits
DHŌS' offerings can be divided into spirit alternatives and liqueur alternatives. Their gin alternative is Gin-Free, their triple-sec (orange liqueur) goes by Orange, and their Bittersweet is a bitter aperitif. It's interesting to read through the ingredients to see the approach to recreating aspects like ethanol's burn and mouthfeel. To simulate that burn, menthol and capsicum are added, while the mouthfeel is simulated by adding xanthan gum.
---
DHŌS Gin-Free
Rating: 4/5

Price: $24.99 (Buy Now)

Ingredients: water, capsicum extract, citric acid, French orange liqueur type extract, menthol, natural white grapefruit zest, natural juniper berry extract, organic juniper berry oil, polysorbate, sodium benzoate, sorbic acid, stevia, vanillin, xanthan gum
Aroma: Heavy juniper and mint with notes of citrus. Very impressed with the aromatics present, considering this is not an alcoholic spirit. Alcohol vapors traditionally play a large role in carrying those aromas, and this is an area I find most alcohol alternatives to be lacking—not the case with Gin-Free.

Taste: Taste follows the same progression as the aroma, but with the menthol notes much more pronounced. On the finish, the capsicum hits to simulate the burn of alcohol. There is a subtle sweetness with a slight roundness of vanilla.

Mouthfeel: Impressive mouthfeel for a non-alcoholic gin. Products in this category often taste thin and watery, but Gin-Free excels in replicating the texture of an alcoholic spirit.
DHŌS Gin-Free is very impressive, and one of the best I've tasted in its category. I prefer the burning sensation found in their Orange, and am curious why they did a split between menthol and capsicum extract for this formulation. My hunch is that the citrus and botanical flavors don't balance as well with the spiciness of capsicum. The menthol is a bit more present than I'd prefer, but when used in combination with the right ingredients, it can be mellowed, or in some cases amplified. I wonder what it would be like to use gingerol (the spicy component in ginger root) in place of menthol.

I generally find the use of stevia as a sweetener off-putting because of the lingering bitter aftertaste, however, it's not as present in Gin-Free. I think it would be challenging to use this to recreate some of the more delicate gin cocktails, but it'll shine as a substitute in a gin and tonic, Tom Collins, or Southside.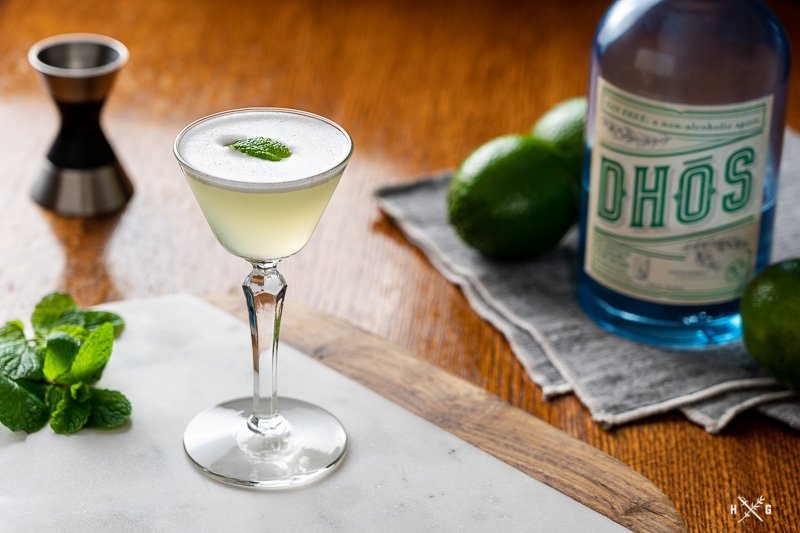 ---
DHŌS Orange
Rating: 4/5

Price: $24.99 (Buy Now)

Ingredients: water, monk fruit sweetener, blood orange extract, capsicum extract, citric acid, menthol, natural orange extract, orange flavor, organic orange extract, polysorbate, quinine, sodium benzoate, sorbic acid, vanillin, xanthan gum
Aroma: Sweet orange and vanilla like a creamsicle.

Taste: Orange and extremely sweet. The spicy capsicum extract is perfectly present to provide a little burn as it goes down. Obviously, one wouldn't sip this on its own, but it's good to know the base flavor profile.

Mouthfeel: Moderate syrupy viscosity you'd expect from a liqueur. I don't think the mouthfeel is as important of a marker for this category as it is for spirit-like products. Spirits have a mouthfeel that is more nuanced while not coming across as syrupy.
DHŌS Orange is spot on. While I think it's simpler to recreate the profile of a liqueur than a spirit, that doesn't mean there isn't an art and a science to what Ransom Distillery has crafted. Fortunately, the orange flavor is as prominent as the sweetness, so a little will go a long way in recipes. DHŌS Orange will work well with various combinations of citrus and fresh herbs, topped with soda water. For more complexity, try combining it with teas and fresh citrus.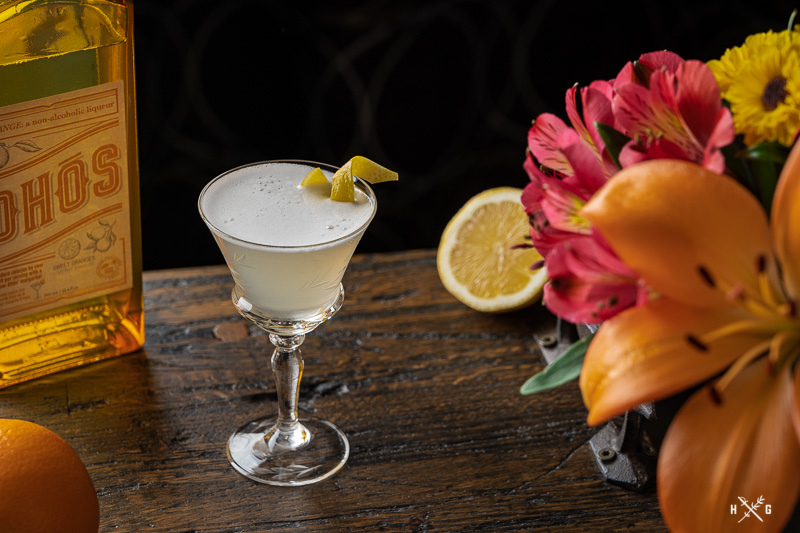 ---
DHŌS Bittersweet
Rating: 5/5

Price: $24.99 (Buy Now)

Ingredients: water, monk fruit sweetener, capsicum extract, cinchona extract, citric acid, gentian extract, menthol, natural orange extract, orange flavor, organic orange extract, white grapefruit oil extract, polysorbate, quinine, red coloring, rhubarb extract, sodium benzoate, sorbic acid, vanillin, xanthan gum, yellow coloring
Aroma: Grapefruit and orange with a subtle hint of vanilla.

Taste: Bitter grapefruit pith and very dry–both excellent things for this category. Some may find it to be overly bitter and taste of cough syrup. Keep in mind, that's only when you sip it neat, which is not how you should use DHŌS Bittersweet. Once you combine with it other ingredients, it really shines.

Mouthfeel: Slightly syrupy, but again, I don't think the mouthfeel is as relevant for this category as it is for spirit alternatives.
I've found DHŌS Bittersweet to be my personal favorite and the most versatile of the lineup. It's certainly the most complex and bold in flavor. It shares similarities to Aperol, so works well in spritzes. I enjoy it mixed with fresh lime juice and Fever Tree's pink grapefruit soda.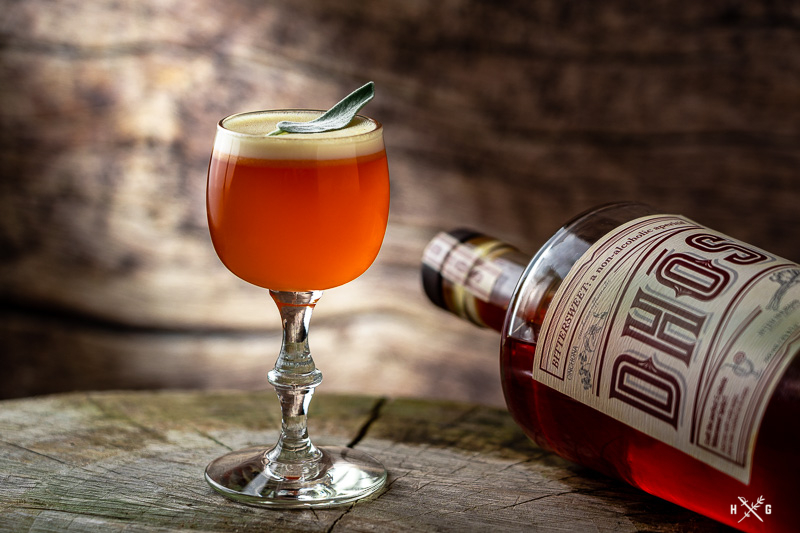 Tips on Using DHŌS Non-Alcoholic in Recipes
Don't underestimate the importance that texture and temperature play in a cocktail. Use the same techniques you would use when making a standard cocktail—shaking, stirring, use of egg whites, use of syrups. Consider adding a rich simple syrup, honey syrup, or even demerara syrup.
Use flavored syrups. Flavored syrups will not only contribute to the desired mouthfeel, but add some additional complexities. Some of my favorite cocktail syrups are made by Liber & Co., Portland Syrups, and Iconic Cocktail Company.
Use fresh herbs. You could take the time to do some infusions, but I think that using them as a garnish to contribute aromatics adds a lot with minimal effort!
Incorporate high-quality loose leaf teas. You can use brewed teas as a base or as part of an infusion. Or, you could simply enjoy a cup of a premium loose leaf tea, which is one of my personal favorites. I enjoy the tea selection from In Pursuit of Tea. I've never tasted an Earl Grey that's so delicious and aromatic, and their Nantou Four Seasons Oolong is always in my cupboard.
Bonus Tip: Add a few dashes of acid phosphate! This old school ingredient was used in soda fountains. Generally, when we talk about adding acidity to a cocktail it's in the form of citrus. Acid phosphate is neutral in flavor, so it provides you with all the acidic kick to accent other ingredients, without introducing citrus flavors.
Conclusion
DHŌS Non-Alcoholic Spirits are some of the best I've discovered in the category. As consumer demand for "low and no" continues to grow, so does the competitiveness of the category. As a result, the techniques used to create these products become more advanced and the quality continues to rise. DHŌS is a premium non-alcoholic option that deserves a place on everyone's home bar. With some competitor's products costing twice as much, DHŌS is an easy sell. While it won't be the first bottle I reach for when I'm wanting to mix a cocktail, it's certainly a perfect go-to when I'm looking to slow down and be more mindful of my alcohol consumption.
---
Additional Resources:
Buy DHŌS Non-Alcoholic Spirits and More
Since DHŌS is non-alcoholic, you can order it on Amazon. Be sure to check your local liquor store too! In Tulsa, OK you can find the full lineup at Ranch Acres.
General Info
Books
P.S. – There is no substitution for moderation, but there are two supplements that I take when I'm doing a reset. Traditional Medicinals Organic Detox Tea and this Liver Cleanse Detox and Repair supplement. Just keep in mind that I'm not a doctor, and this isn't medical advice.
---
I created The Humble Garnish because I'm passionate about cocktails. Occasionally, I am provided with products for review or other perks. Many product links on this site are affiliate links that give me a very small kickback, and costs the buyer nothing extra. For example, as an Amazon Associate, I earn from qualifying purchases after a link leading to Amazon is clicked. Other links may earn me affiliate commissions as well. This helps offset the cost of creating content for the site – things like camera gear, software, alcohol, glassware. I have at times accepted and at other times declined free products. I promote what I love and use, and rarely will write about a product that I don't appreciate or own. If I don't like a product or service, I often simply choose not to write about it.

– Andrew