Occasionally, it may be useful to know the total alcohol content of a cocktail. Calculating the ABV (alcohol by volume) is not particularly difficult, but if it's something that you need to do frequently, this handy spreadsheet simplifies the process!
I've input all the formulae to automatically calculate the total ABV of any cocktail recipe that you input. I've created a version for Imperial Units and one for Metric. The only difference in these is the labeling of cells—there are no embedded conversions that are specific to either unit of measure.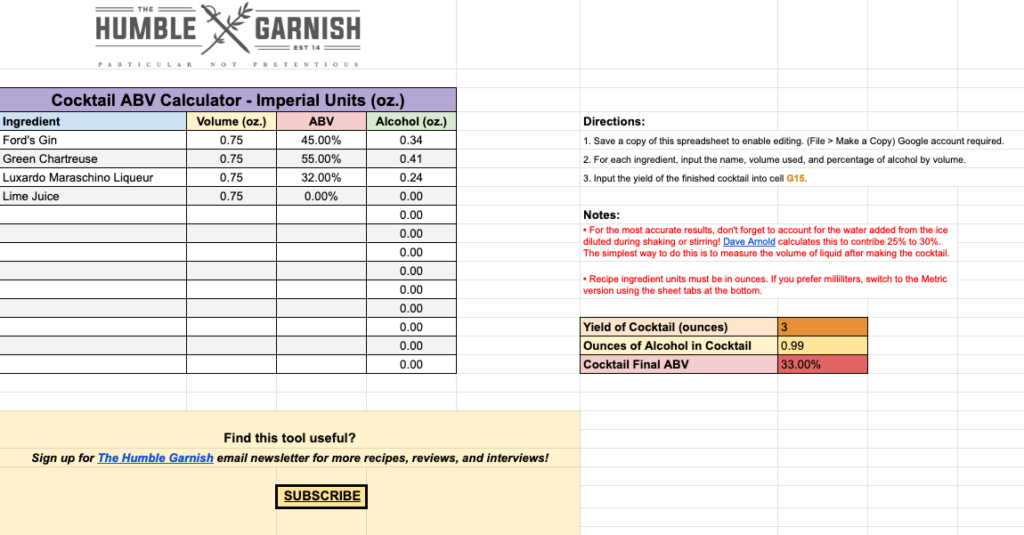 Simply save a copy of the Google Sheet or download to enable editing. Then, add the ingredients' name, volume, ABV, and the yield of the finished cocktail.
The green colored alcohol column automatically calculates the volume of alcohol contributed by each ingredient.

The cocktail's final ABV will be automatically calculated for you, and displayed in the red cell towards the right.

This tool is totally free to use, simply input your email address below and you'll receive the access link!

Cheers!
P.S. – If you want to check your own blood-alcohol level (BAC), I recommend the BACtrack C6. This small key chain model is super compact and can be used in conjunction with their app or in standalone mode. I know I was surprised to see quickly certain cocktails increased my blood-alcohol level.