Whether you're looking for an everyday detox or something special to supplement a "dry January", this "tea" is the perfect solution. For those observing a dry January, I've found that having something that tastes just as good as a cocktail, whiskey, etc. will help you maintain your will power. Loose leaf tea is a great option for evenings, but I prefer to start my mornings with this ginger turmeric lemon tea. I enjoy it chilled, but I've seen similar recipes served hot – it's truly personal preference. I've also seen it prepared by simmering the ingredients in hot water, but if you use a high-speed blender or juicer you'll get more flavor and more of the actual ingredients in the resulting drink.
This drink's benefits come primarily from the apple cider vinegar, ginger, and turmeric. While some may fall into the category of herbal remedies, others have passed medical scrutiny and have proven benefits. Here's the rundown of the ingredients and the full recipe below. I've also include links to some other detox products as well as the bottles I use at home for storing this an other drinks I make.
Apple Cider Vinegar
Apple cider vinegar is a natural remedy that has found its way back into popularity. Studies show that apple cider vinegar may be helpful in aiding weight loss and maintaining blood sugar. For the full benefits, consume raw, unfiltered, unpasteurized vinegar which will contain the "mother". (I prefer Bragg brand.) The mother is the sediment-like mass that contains probiotics that promote healthy gut bacteria and can support immune system function. When consuming apple cider vinegar, make sure to dilute it. Don't drink more than 1-2 tablespoons in a glass of water up to two times a day. The acetic acid can erode tooth enamel and the esophagus.
Ginger
Ginger root has been used for thousands of years in Asian cooking as well as a remedy to treat upset stomach, nausea, and aid digestion. Ginger root is a rhizome, meaning it's an underground stem. The active components in ginger are thought to be the gingerols and shogaols. Studies show that ginger can reduce certain symptoms of motion sickness such as vomiting and cold sweats, but not reduce the feeling of nausea. Ginger has also been used in traditional medicine to reduce inflammation, but has been shown to be of the same level of effectiveness as over the counter pain relievers and placebos.
Cayenne
The active component in cayenne (and other) peppers is capsaicin. Capsaicin is a topical analgesic often used in ointment form to treat joint and muscle pain and nerve pain related to skin conditions. Cayenne pepper may also reduce appetite, contributing to weight loss. Preliminary studies suggest capsaicin may be useful in treating circulatory problems and possess anti-tumor properties.
Turmeric
Turmeric is another rhizome, and is related to ginger. The active substance in turmeric, curcumin, may be one of the most promising herbal remedies, but is also the one with the most conflicting research. Curcumin is an antioxidant, which means it can clear the body of free radicals. Preliminary studies suggest that turmeric may help treat or prevent certain types of cancers. Other studies suggest it may also be useful in treating atherosclerosis, which can lead to heart attack or stroke.
Honey
Sadly, the oft-touted benefits of consuming local raw honey have little evidence to back them. Windborne pollen is not the same pollen that is spread by insects and contained in honey. Aside from the old honey and lemon cough remedy, many of these benefits may be folklore. However, this doesn't change the fact that it's an excellent sweetener.
P.S. – Note that none of the above is medical advice. Simply believing the alleged health statements doesn't mean they are all accurate, proven, or agreed upon. Furthermore, check with a doctor before consuming any of these in large quantities. Some may interact with specific medications, or should not be consumed by people with certain medical conditions.

---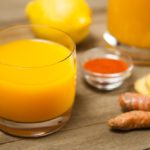 Print Recipe
Ginger Turmeric Lemon Detox Tea
Ingredients
2½

cups

water

½

cup

apple cider vinegar

organic, unpasteurized, unfiltered

1

lemon

45

grams

ginger root

30

grams

turmeric root

4

tablespoons

honey

½

teaspoon

cayenne pepper

3

turns

black pepper

1

pinch

salt
Instructions
Peel ginger and turmeric root. (Peeling with a spoon is the simplest method and also be aware – turmeric will STAIN EVERYTHING. Wear gloves, cover cutting boards and any surfaces.)

Quarter the lemon and chop the ginger root and turmeric into smaller pieces. (if using a blender)

Combine ingredients in a heavy duty blender, and blend until the contents are as pureed/juiced as possible.

Double strain through a cheesecloth and a fine wire mesh sieve.

Bottle and store refrigerated 2-3 weeks.
Notes
If the blender is smaller, divide the ingredients into smaller batches. If you have a juicer that is heavy duty enough to handle the ginger root, juicing the ginger, turmeric, and lemon would be a preferred method.
---