Obscurity of a cocktail ingredient does not guarantee that said ingredient is good. Perhaps there is a reason a certain spirit is unknown, as opposed to it being a mysterious elixir. However, when that obscure ingredient has been around for over 150 years, it's more than a fad. Underberg is a German digestif that has withstood the test of time. Known for the intense flavors that it packs into its tiny 20ml bottles, it's been rising in popularity as a cocktail ingredient.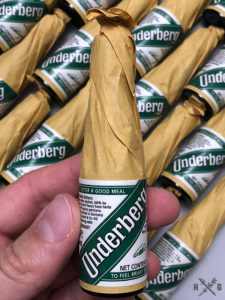 The recipe for Underberg was created in 1846 by Hubert Underberg, but it wasn't until after WWII that the brand became iconic with the introduction of their small single-serving bottles – an idea suggested by Emil Underberg, the grandson of Hubert. The small, paper-wrapped bottles with a green label provide a single portion of the post-meal elixir. The front label states, "After a good meal… to feel bright and alert."
The intense herbal flavors of Underberg include anise (what many people associate with black licorice), clove, and wormwood. Underberg doesn't reveal what herbs and spices are in the product, only that they are sourced from 43 different countries. The spirit is also aged for several months in Slovenian Oak, and bottled at 44% alcohol. It is one of those polarizing spirits that people either love or hate, and those that love it join its cult-like following. Most commonly it's enjoyed at room temperature, but Underberg suggests serving it at 7°C – 20°C (roughly 45°F to 68°F). Underberg also has the distinction of being a product protected by an EU Protection of Origin, which it obtained in 2008 for the term "Rheinberger Kräuter", or Rheinberg herbal digestive.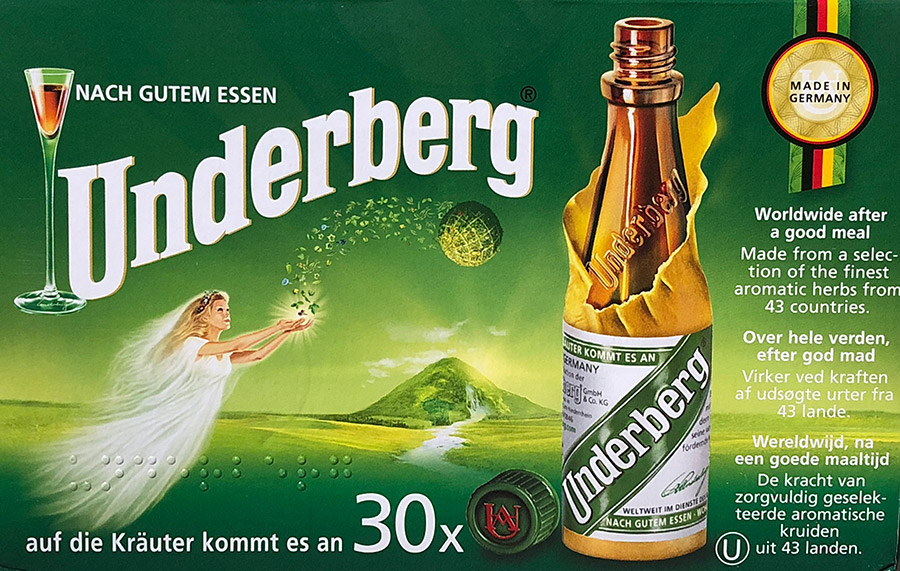 Underberg is very similar in style to an amaro (bitter liqueur), but where it differs is that it does not contain any added sugar. Technically, it's in a category of spirits known as Kräuterlikör (herbal liqueur), a category which includes the somewhat similar tasting Jägermeister. Two of the more popular Kräuterlikörs that cocktail enthusiasts would recognize are Bénédictine and Chartreuse. Despite similarities, Underberg falls into another classification that these other spirits to not – it's considered non-potable just like cocktail bitters. This means that the product is not subject to liquor laws, and it's even available on Amazon. This non-potable designation is increasingly more challenging to uphold as bartenders continue to incorporate it as a base spirit in cocktails.
Underberg intentionally never markets itself as a cocktail ingredient or a shot. This is made very clear on the bottle's label which states, "Underberg is a herb bitters taken for digestion. It is not a beverage. Not to be sipped, but taken all at once and quickly because of its aromatic strong taste. It is also used as a flavoring."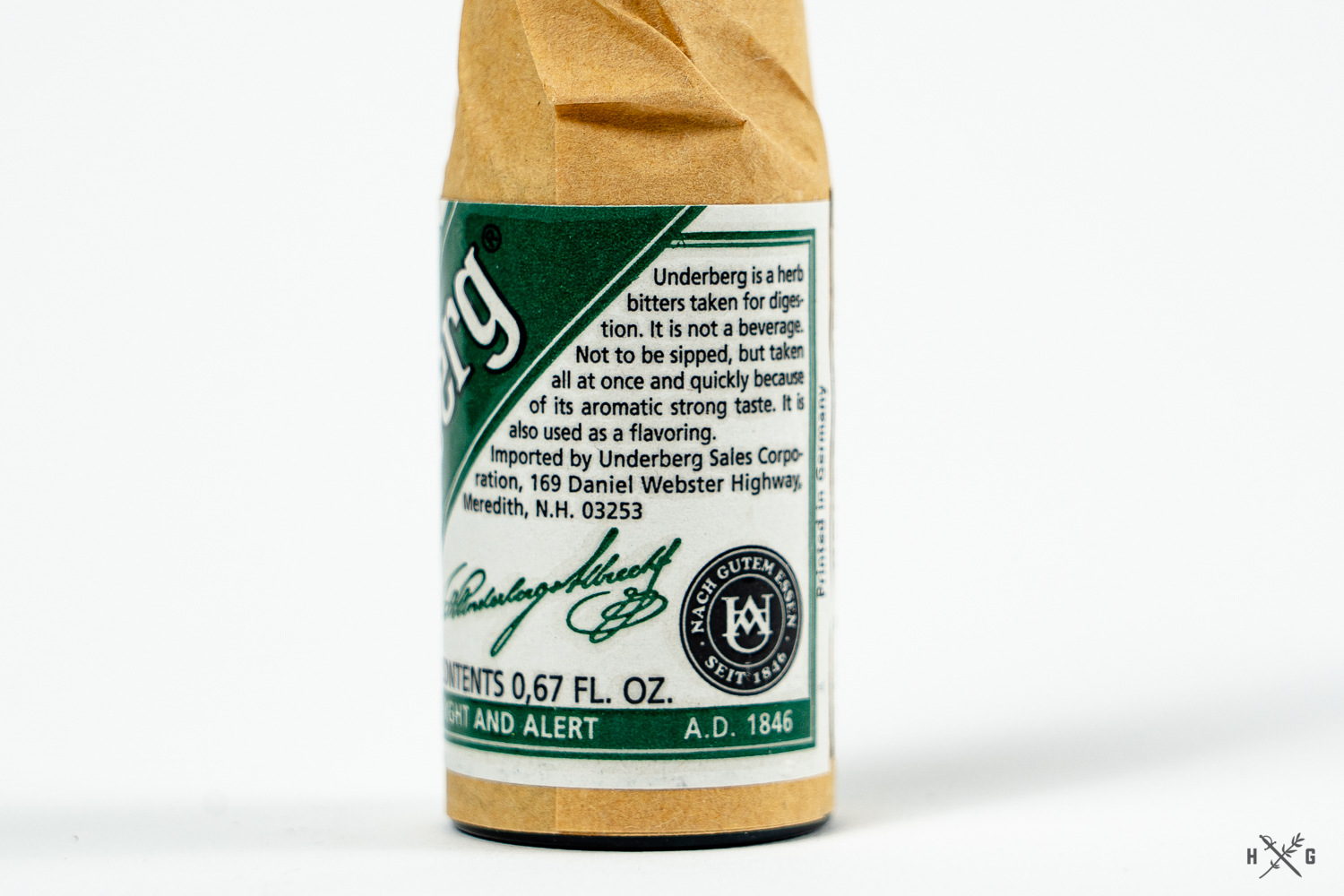 The Underberg website may not feature cocktail recipes, but it does have
several recipes
for gourmet meals – none of which include Underberg as an ingredient, but suggest it as the complementary post-meal digestif.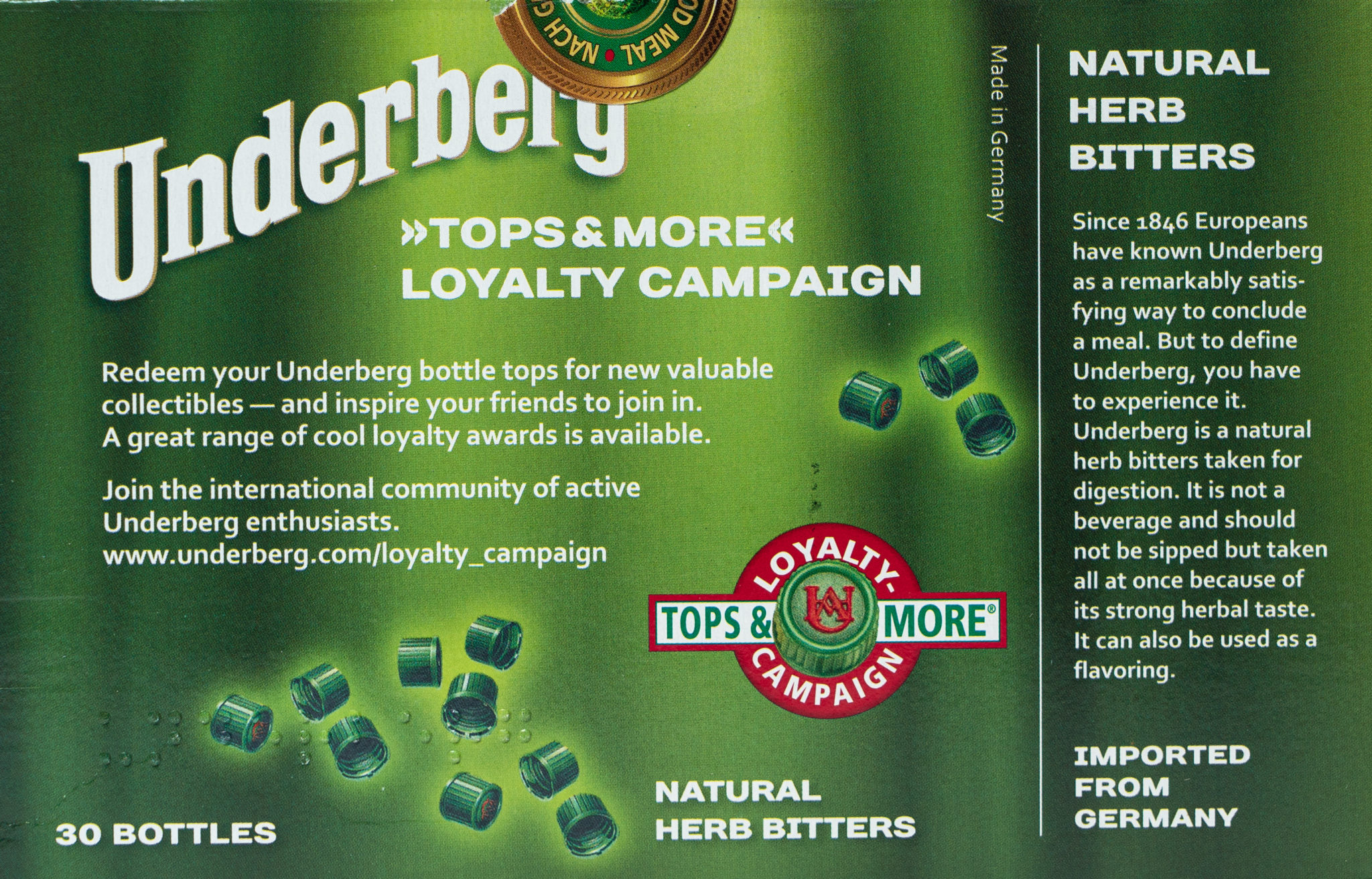 If improving digestion isn't enough, Underberg also offers a loyalty rewards program where the bottle caps can be redeemed for various Underberg products ranging from keychains and playing cards to glassware and dinner plates.
Underberg on its own may be somewhat of an acquired taste, but when used in cocktails it can blend well to provide the perfect amount of accent flavors. I'd suggest trying Underberg on its own first and then trying it in one of the 7 Underberg cocktails below.
1. The Imperial Bulldog
The Imperial Bulldog is a delicious tiki cocktail that uses Underberg in a role that would normally be held by Angostura bitters. Pineapple works surprisingly well with Underberg. Seeing as to how pineapple also works well with Green Chartreuse, I think there could be a great cocktail between those three ingredients.
Imperial Bulldog
Ingredients
¾

ounce

aquavit

¾

ounce

cachaça

¾

ounce

lime juice

¾

ounce

pineapple juice

¾

ounce

simple syrup

1

bottle

Underberg Bitters

red raspberries
Instructions
Muddle 5 raspberries in the bottom of a chilled pilsner or Belgian beer glass and add crushed ice.

Combine aquavit, cachaça, lime, pineapple, and simple syrup in a cocktail shaker with ice and shake until chilled.

Pour into the glass, add more crushed ice.

Garnish with pineapple leaves, red raspberries, and inverted bottle of Underberg.
---
2. Corrections
This cocktail isn't for the faint of heart. This herbacious amaro cocktail is a cocktail enthusiast's dream.
Corrections
Instructions
Stir with ice in a mixing glass until chilled.

Strain and serve in a rocks glass with a large cube.

Garnish with an expressed lemon peel.
---
3. Alpine Sour

There are several drinks that go by this name, most of which contain génépy. This one uses Asbach Uralt, which is a German style brandy with notes of raisin and spice.
Alpine Sour
Instructions
Shake all ingredients with ice then strain into a chilled coupe glass.

Garnish with grated nutmeg.
---
4. The Influence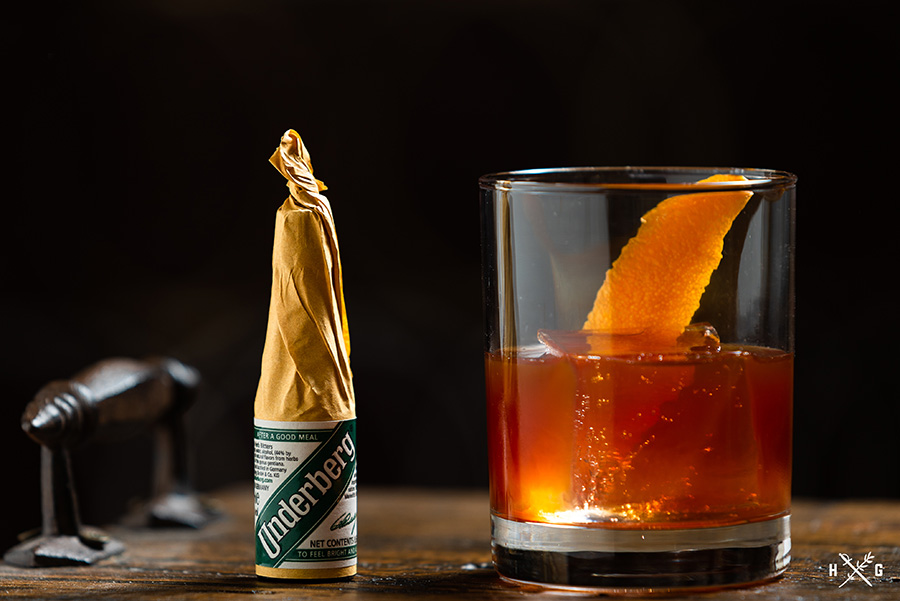 The Influence is a simple old fashioned that leans towards the bitter side as opposed to the more traditional sweet. Tyler Fry's recipe specifies the bitters in drops, so unless you store your bitters in droppers, try 1-2 shakes for each type of bitters. You can always add more if needed.
The Influence
Instructions
Stir with ice in a mixing glass until chilled.

Strain and serve in a rocks glass with a large cube.

Garnish with an expressed orange peel.
---
5. Ice-Berg
This simple cocktail is basically an Underberg slushie.
Ice-Berg
Instructions
Combine ingredients in a blender with 1 cup of crushed ice.

Garnish with empty Underberg bottle.
---
6. Mantequilla
The Mantequilla is the most complex of the listed recipes. This cocktail was an entry into a Skinos cocktail competition, and is another tiki recipe that uses Underberg. Skinos is a Greek spirit made with the resin of the Mastiha tree, so it may be difficult to acquire.
Mantequilla
Ingredients
1⅓

ounces

Angostura Rum 1919

⅓

ounce

Four Roses bourbon

1

ounce

Skinos mastiha spirit

1⅓

ounces

pineapple juice

½

ounce

fresh lime juice

1

barspoon

Underberg bitters
Instructions
Combine ingredients in a cocktail shaker with ice and shake until chilled.

Strain into a tiki mug filled with crushed ice.

Garnish with a pineapple ring and a few more dashes of Underberg.
---
7. Kräuter Sauer

Kräuter is the German word for "herbs", so this cocktail is essentially named the herbal sour.
Kräuter Sauer
Instructions
Shake all ingredients with ice then strain into a chilled coupe glass.

Garnish with an expressed lemon peel.

Any remaining cocktail should be served in a sidecar with the empty Underberg bottle inverted.
PS – As far as I'm concerned the Underberg 30-pack is the only way to buy Underberg. In addition to these cocktails, I love bringing them to events as sort of a surprise party favor or end-of-night toast. Since it's technically not classified as an alcoholic beverage you should be fine to consume them anywhere. I've carried around a dozen bottles in my carry-on luggage and even consumed them within an airport restaurant. You may get some funny looks, but you should be fine. Just be sure to leave one for your bartender or server!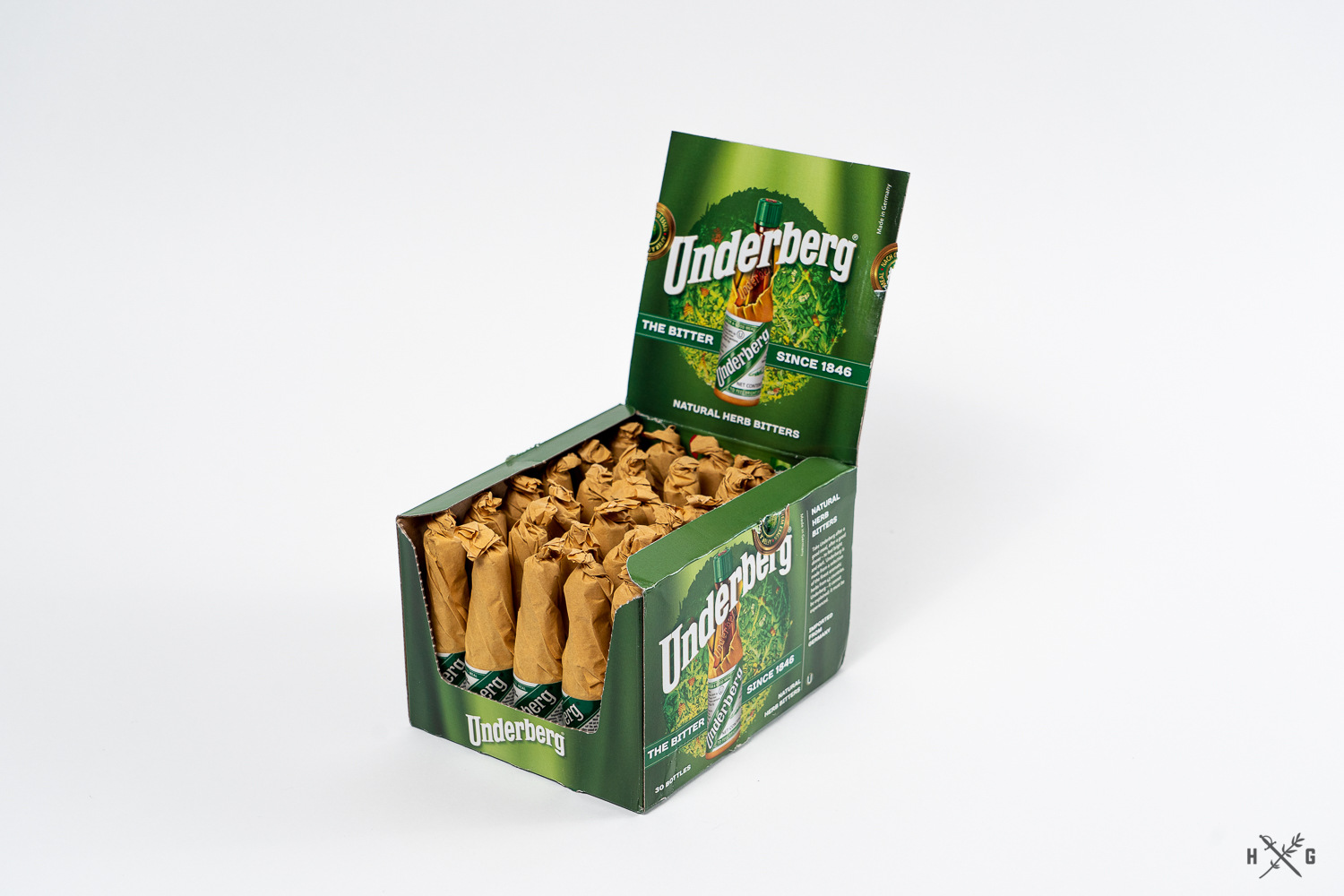 ---
I created The Humble Garnish because I'm passionate about cocktails. Occasionally, I am provided with products for review or other perks. Many product links on this site are affiliate links that give me a very small kickback, and costs the buyer nothing extra. For example, as an Amazon Associate, I earn from qualifying purchases after a link leading to Amazon is clicked. Other links may earn me affiliate commissions as well. This helps offset the cost of creating content for the site – things like camera gear, software, alcohol, glassware. I have at times accepted and at other times declined free products. I promote what I love and use, and rarely will write about a product that I don't appreciate or own. If I don't like a product or service, I often simply choose not to write about it.

– Andrew