A well-executed or creative garnish has the ability to emblazon the memory of a cocktail within the imbiber's mind. Whether it's eagles cut from orange peels in Sazeracs or dolphins made from bananas in tiki drinks, they'll leave a memory of a specific time and place. Lately, I have seen cocktails embellished with intricate designs made by spraying bitters over a stencil, so I decided to write a quick how-to article. Garnishing with a cocktail stencil and bitters is simple, but there are few tips and tricks that will help you along the way.
For starters, you'll need a drink that has a thick foamy head to hold the sprayed artwork, which is most often bitters sprayed from a small atomizer. I chose the classic whiskey sour which uses egg whites to provide me with a "canvas" of thick foam.
At a minimum, the tools you'll need are blank stencil sheets, an X-ACTO knife, a surface to cut on, and an atomizer. If you want to skip making a custom stencil, you can pick up these pre-made stencils for under $7. (There are plenty of other pre-made cocktail stencils on Amazon too.)

P.S. – Don't forget the bitters! Angostura is a classic choice.
---
How to Make Cocktail Stencil Art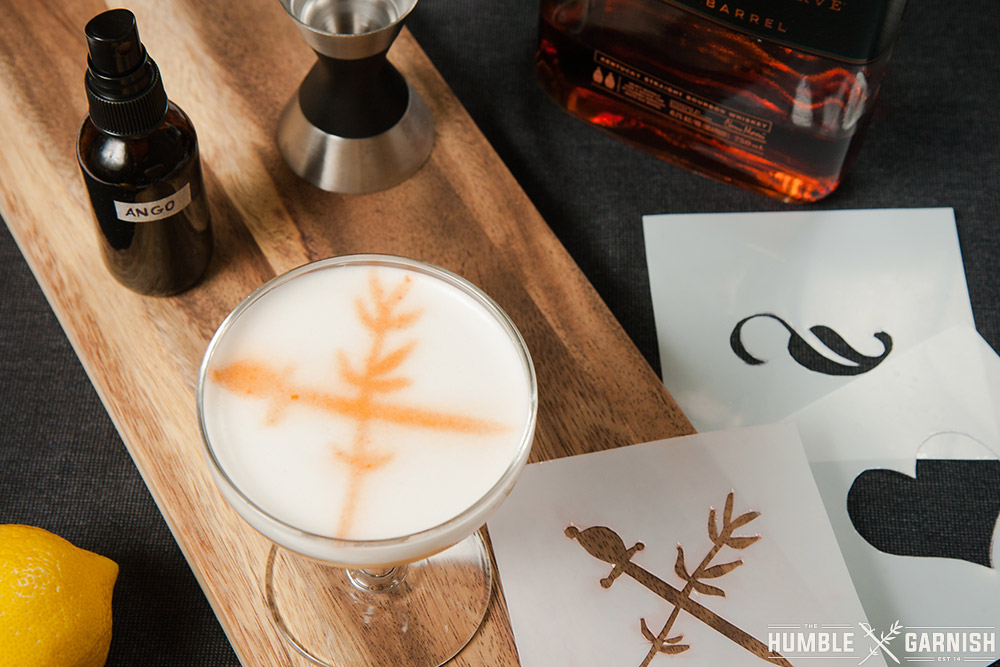 How to Make Cocktail Stencil Art
Total Time: 20 minutes
Choose a Design
Step one is choosing a design. Find a shape, logo, or letters that are solid and do not contain fine detail.
Measure Glass Diameter
Measure the diameter of your serving glass and cut a section of the blank stencil material according to that measurement. The stencil material should be large enough to completely cover the top of the glass. You'll want some overhang.
Print Your Design
Print your design on standard printer paper, at the size that matches the blank sheet of stencil material that you just cut. Make the graphic as large as possible, without exceeding the bounds of where your glass' rim would be.
Trace
Tape the printed design to the blank stencil material template and trace the edges. Remove and discard the printed design.
Cut
Place the stencil template on a cutting matte and use an X-ACTO knife to carefully cut around the edges.
Make a Cocktail
I suggest making a cocktail with egg whites and using a dry shake preparation. (whiskey sour recipe below) Really, anything with a nice foamy top will work. I also suggest using a ball whisk or Hawthorne strainer spring to aid in creating the foamy texture. Ensure the cocktail fills the glass up to the rim, or you won't be able see the details from your stencil.
Spritz Bitters
Carefully place your stencil on top of the glass. Make sure the stencil does not come into contact with the surface of the drink or the design will be ruined when the stencil is removed. Use an atomizer to mist bitters or other contrasting liquid onto the surface of the drink through the stencil.
Sip
Carefully remove the stencil and enjoy.
Estimated Cost: 45 USD
Supply:
Tools:
X-ACTO Knife
Cutting Mat
Atomizer
Tape
(Amazon links at end of post)
Sharpie
Materials: Blank Stencil Template Material
---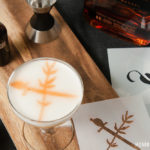 Print Recipe
Classic Whiskey Sour
Ingredients
2

ounces

whiskey

¾

ounce

simple syrup

¾

ounce

lemon juice

1

egg white*

bitters for garnish
Instructions
Combine whiskey, simple syrup, lemon juice, and egg white in a cocktail shaker and dry shake. (Dry shaking means you don't include the ice. Use of a ball whisk or Hawthorne strainer spring can help.)

Add ice and shake until chilled.

Double strain into a coupe glass.
Notes
If garnishing with bitters or bitter stencil, wait for the foam to settle before garnishing.
* Consuming raw or undercooked meats, poultry, seafood, shellfish, or eggs may increase your risk of foodborne illness.
---
---
Additional Resources: