This is a conversation that I recently had with award-winning cocktail writer Robert Simonson. Simonson was in Tulsa to judge the annual MIX cocktail competition. I also had the honor of hosting a live Q&A with him at Magic City Books as part of his book tour. Though some of this content is specific to Tulsa or MIX, there are other noteworthy bits.

Cheers!
---
The Philbrook Museum's 8th annual MIX cocktail competition is on the books for Saturday, Sept. 21, with a few exciting changes in store. This year's competition will be held at Philbrook and will feature eight of Tulsa's top bartenders who made it through the rigorous application process.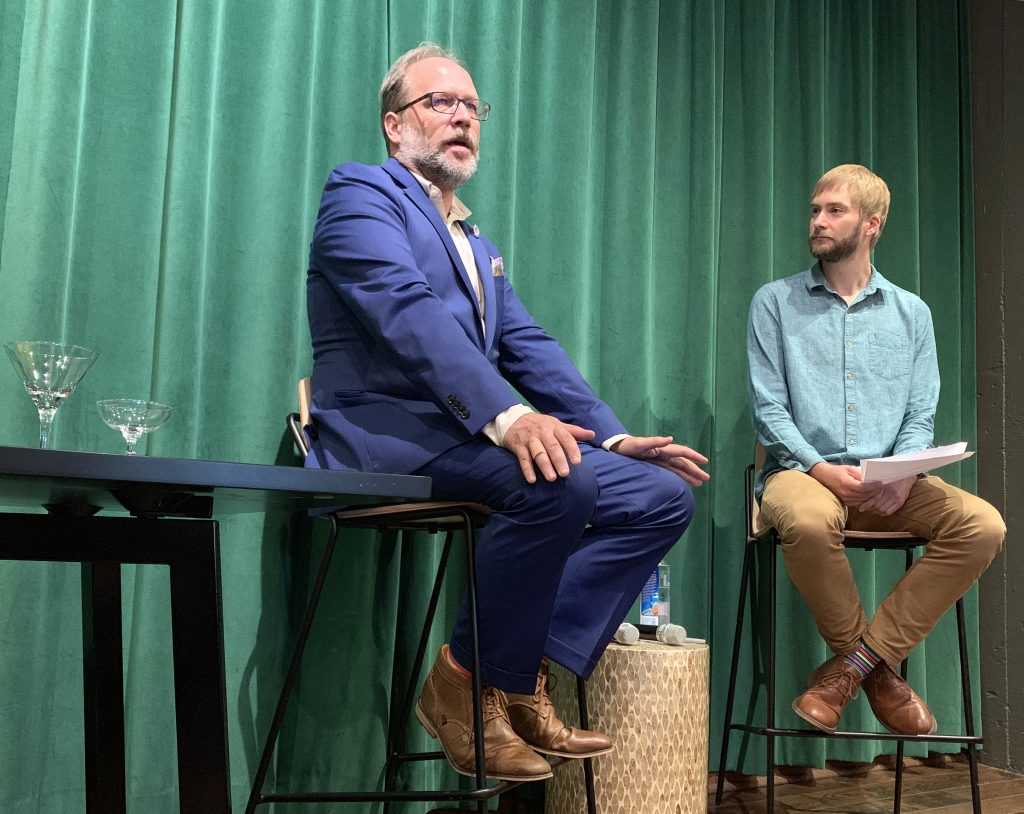 The guest judge for this year's MIX is acclaimed cocktail writer, Robert Simonson. Simonson has authored four cocktail books and regularly writes for The New York Times, PUNCH and Imbibe. His fourth book, The Martini Cocktail: A Meditation on the World's Greatest Drink, with Recipes, will be released Sept. 17. I recently had the privilege to speak with Simonson about his new book, current cocktail culture and MIX.
---
Andrew Saliga: First off, I just wanted to say congrats on winning the 2019 Best Cocktail and Spirits Writer at Tales of the Cocktail. That was a long time coming.
Robert Simonson: Thank you. Yes, 11 nominations and I finally received it.
Saliga: I'm curious about your path to becoming a cocktail and spirits writer. You previously wrote about theater, correct?
Simonson: Yes, I wrote about theater for a good 15 years.
Saliga: When did the transition happen from theater to cocktails?
Simonson: It was 2006, and totally by accident. I was invited to Tales of the Cocktail, and I had never been to New Orleans. I was bewitched by the whole cocktail culture that I did not know existed up until that point. I had been growing tired of writing about theater and was experiencing a little bit of burnout. Nobody was writing about cocktails at that point, so there was an opening.
Saliga: I read that it was specifically a Sazerac at the Carousel Bar which you consider a mile marker for your transition. Tell me more about that experience.
Simonson: You have to remember, back in 2006 you couldn't get a Sazerac anywhere but New Orleans. You couldn't get absinthe anymore. Rye whiskey was hard to come by. Peychaud's Bitters was only made in New Orleans. So, you know, there was a real mystery to it.
Saliga: In your writing, you cover the history of both cocktail culture and specific drinks as well as bartenders and establishments. Do you prefer one subject over the other?
Simonson: I like writing about bartenders because they're very interesting personalities and often they've come from unlikely places. I also like writing about particular cocktails. I like getting into the nitty-gritty of why one cocktail works the way it does, why it's popular, what you have to do to make a good one. It's usually a lot more complex story than you would expect. You know, like what goes into a good daiquiri. It seems simple because it's only three ingredients, but it never is.
Saliga: You also wrote an entire book titled 3-Ingredient Cocktails. Do you feel like after years of increasing complexity in cocktails that the pendulum has swung towards simplicity?
Simonson: I think it's sort of dangerous to say the cocktail community is trending in one way or another at any given time because it's going in many directions at once. There are people and bars out there who are trying to get back to something more simple. There are still bars out there who are making drinks as complicated as ever. I'm sure that's the case in Tulsa too, that you have different cocktail bars for different drinks.
Saliga: Speaking of going different directions, do you have any thoughts on zero-proof cocktails?
Simonson: [Chuckles]
Saliga: Would you rather not comment?
Simonson: It's a welcomed new aspect to drinking because there are people who want to experience the bar atmosphere with their friends, but maybe they don't want to drink, or maybe they can't drink. It's nice to have those options.
At the same time, I kind of struggle with the whole genre of drink because I wonder if it's something I'm supposed to be writing about. I mean, I write about spirits and cocktails, and these things are traditionally alcoholic, but these are different kinds of drinks. I mean, it seems like a different category altogether that we should put over there with lemonade and iced tea and what have you. I'm fine with these drinks existing, but they don't necessarily provoke my curiosity.
Saliga: Is it because there's no history behind them?
Simonson: I guess there's the lack of history. I do find the drinks, even the ones that are very well-crafted, less compelling than a well-crafted alcoholic cocktail.
It's sort of like, you know, you're a vegan but you still want to eat burgers, and so you come up with the best vegan burger ever. Why don't you just eat vegetables? Vegetables are delicious. You don't have to have a fake burger.
So, if you don't want to drink alcohol, don't drink alcohol, that's great. But I don't know why you have to have a mock cocktail. I mean, when I don't want to drink alcohol, I have an Arnold Palmer, and I'm completely happy.
Saliga: What are your opinions on draft cocktails?
Simonson: It's another tool in the bartender's arsenal. I don't mind batched cocktails. Some people want their cocktail to be made specifically for them, in front of them when they order it. And I understand that's because the interaction with the bartender is part of the fun.
But other people want their cocktail as fast as possible, and when bars are busy, draft cocktails or bottled cocktails certainly facilitate that speed. I think you must approach it on a case-by-case basis because certain cocktails lend themselves to batching and certain ones don't. I think Manhattan is a fine example. You can batch these and it's still going to taste pretty good. So, I have no real objections to it.
Saliga: Circling back to your upcoming book, The Martini. Tell me more about it.
Simonson: The first half of it is the history of the martini, and the second half is recipes. I tried to be rather strict and narrow with the recipes. There are no quote-unquote 'tinis in this book—no espresso martinis, no chocolate martinis. They're all drinks with gin and vermouth or vodka and vermouth or some variation. Sometimes there are additional ingredients, but I stick to that model that we recognize as a martini.
Some of the recipes are historical, they go back to the 1880s. Some are connected to specific bars and restaurants that are known for their martinis. Others are connected to specific bartenders that are known for their skill with the drink. And some are modern, like versions of the martini from the last 10 years. There are about 60 recipes, and the history goes over some well-trod ground.
Part of the challenge of writing the book about the martini is that, unlike the old-fashioned, there have been books about the martini before. There have been about 10 over the last 40 or 50 years and so it was a challenge to uncover new information. But I do think that I found some things that have not been covered in previous books. Most of them from the past 25 years.
Saliga: What is your preferred gin (or vodka) to vermouth ratio?
Simonson: The last chapter in the book is entitled "My Martini," and I talk about that whole struggle. I knew I would have to publish a recipe that was my preferred recipe, and I was trying to figure out what that was. In the end, I decided that it was kind of foolish to just get myself down to one recipe and say, "This is my only favorite martini," because there are many different kinds of martinis that I like. I ended up publishing one particular recipe that I always enjoy, but it's not the only kind of martini that I like.
There's a particular gin out of Austria called Blue Gin. You ever tried it?
Saliga: I've not.
Simonson: It's a wonderfully elegant, refined gin made by this guy who typically makes eau de vie, but he makes gin on the side. I think it's got about 17 botanicals. I pair it with Dolin Dry Vermouth, at a proportion of three to one, and with a couple of dashes of orange bitters and a lemon twist. I always prefer a lemon twist over an olive.
Saliga: That sounds delicious. In your book, The Old-Fashioned, there was a section where you referred to the martini, the old-fashioned, and the Manhattan as the trinity of cocktails…
Simonson: Exactly. I mean, I think it's the martini, the old-fashioned, the Manhattan, and the daiquiri. Those are the four fking cocktails.
Saliga: Is it safe to assume that there will be another single-drink focused book in the works after The Martini?
Simonson: There are very few cocktails that are important enough that they can bear the load of an entire book written about them. My old-fashioned book sort of created a sub-genre of cocktail book, the single-subject cocktail books.
I'm not going to write it, but people have suggested the daiquiri. I feel that Jeff Berry covered that territory in his book, Potions of the Caribbean. And there's an author named Philip Greene who wrote a whole book about the Manhattan three years ago. So the Manhattan's been done. And there has been a book about the Negroni. There's been a book about the Bloody Mary. So we're kind of running out of drinks that deserve that kind of treatment.
Saliga: You last judged MIX in 2015. Do you think your approach to judging a cocktail competition has changed in the past four years?
Simonson: I don't think so. Most craft cocktail competitions are sponsored by liquor brands, and the whole purpose of the competition is to bring attention to that liquor brand. MIX is a very different kind of competition with a different kind of mission, one that I like a lot more. I'm looking forward to the new locale. I love the Philbrook. It's such a beautiful place.
Saliga: If you had to give the competing bartenders one piece of advice, what would it be?
Simonson: Keep it as simple as humanly possible. If you're reaching for your eighth ingredient, you need to start over.
---
(This original article was originally published in 2019 September A Issue of The Tulsa Voice.)
---
Books by Robert Simonson
Other Books Mentioned