This Chartreuse recipe by Ford Roberts is a surprisingly delicious combination. You'll definitely want to stir this one well to chill and dilute the shot, otherwise it'll come off very syrupy with all the Chartreuse. That said, it's still on the sweeter side. I have heard of it served as a cocktail, but I think you'd need to tweak the ratios to make it more balanced if you plan on sipping it.

I'd advise reserving this one for special occasions or home consumption, as it's not unusual for a single shot of Chartreuse (not to mention mezcal) to cost upwards of $20 at some cocktail bars.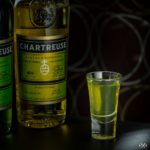 Print Recipe
Disco Ball
Instructions
Combine ingredients in a mixing glass with ice and stir until chilled.

Strain into a shot glass.
Notes
Discovered in "Shake. Stir. Sip." by Kara Newman.