There is a certain appeal to the simple cocktails that don't require precise measuring, advanced techniques, or a long list of ingredients. The Ti' Punch is the perfect solution to the end of a long day, when you're not looking to fuss with much. It's also the first cocktail that I often order when I'm at Saturn Room. It's hard to believe that I've been enjoying this cocktail consistently since 2016!
To properly make a Ti' Punch, you'll need rhum agricole. This style of rum originates in the French Caribbean islands, and has a very different flavor profile than other styles of rum. Rather than using molasses, rhum agricole uses fresh-pressed sugarcane juice, lending it a more green and funky flavor. If you've ever had cachaça, the national spirit of Brazil, you'll taste some similarities since it's also distilled from sugarcane juice. The two most common rhum agricoles you'll come across are Neisson and Clément–my personal preference is Neisson Blanc, which packs a little heat at 50% ABV.
---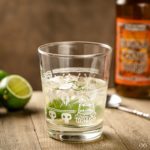 Print Recipe
Ti' Punch
The Ti' Punch (short for petite punch) is a personal favorite. It's simple and highlights the excellent flavors found in a quality rhum agricole.
Ingredients
2

ounces

rhum agricole

(Neisson Blanc is a great option)

1

barspoon

sugar cane syrup

(not the same as simple syrup)

lime
Instructions
Squeeze Thai lime* into rocks glass filled with ice.

Add bar spoon of sugar cane syrup followed by rhum agricole.

Stir briefly to mix.
Notes
*Thai lime is a reference to the cut, not the varietal. Slicing a lime Thai-style means cutting around the core. This makes the lime much easier to hand squeeze.
In Martinique, the drink is often served without ice.