According to cocktail writer, Paul Clarke, the origin of the Suffering Bastard dates back to the 1940s at the Long Bar in the Shepheard Hotel in Cairo.
Some versions of the recipe call for brandy or rum while others call for bourbon, so that choice is up to your personal preference or based on what's on your liquor shelf. This is one of those recipes that you can wing, without paying too much attention to exact ratios. Select two ounces of spirits to add to ginger ale, and add fresh lime and a dash of bitters. Think of it as a more complex Moscow mule.

Cheers!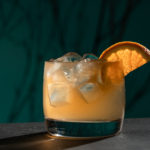 Print Recipe
Suffering Bastard
This recipe dates back to 1947 and was created as a hangover remedy–or so the story goes.
Instructions
Combine ingredients in a rocks glass filled with ice and top with ginger ale.

Garnish with an orange slice and/or mint sprig.