This article is the extended version of an interview I conducted with David Wondrich. I judged a cocktail competition with him in Tulsa, Oklahoma and called him the week prior to the event to discuss his backstory, the cocktail revolution, and his approach to judging cocktails.

While some of the content may be specific to Philbrook's MIX cocktail event, I have opted to leave it because I figured it would be insightful and interesting for fellow enthusiasts. We discuss everything from him playing in a punk band, his martini preferences, and his research methods for his books. I hope you find it both informative and interesting.
Also, I'm giving away two signed copies of his books. I have one signed copy of Imbibe! and one signed copy of Punch. The giveaway launches Monday—unless I get a bit restless and launch it early. Be sure to sign up for the email list so you don't miss out!

This giveaway is live, and you can enter here or at the end of this article!

Cheers!

---
Sixteen of Tulsa's top bartenders are scheduled to throw down once again for the coveted title of Philbrook's MIX cocktail champion. The judges' panel will consist of David Wondrich, Chef William Lyle (The Summit), and myself.

The mention of Wondrich's name to cocktail aficionados is sure to perk ears and raise glasses. Wondrich was an integral figure in what has been dubbed the "cocktail renaissance"—a period of enlightenment when the research and dedication of a small group of cocktail geeks created what is now the modern craft cocktail movement. He spent years as Esquire's Cocktail Correspondent, authored five books, and has won numerous awards for his work, most notably a James Beard Award for his book, Imbibe!.

In lieu of a flight to Brooklyn and a bar tab at Clover Club—which, between Wondrich and myself, would rival the cost of the ticket—I opted to phone him early on a Monday morning, as he was finishing his first cup of coffee, to discuss cocktails and MIX.

The Humble Garnish: You're a household name to cocktail enthusiasts, but how would you describe yourself to the uninitiated?

David Wondrich: I basically invented my own job. I'm a former English professor, former rock and roll musician, who writes about cocktails and spirits and their history—and I have been doing it for the last 19 years.

HG: What instrument did you play?

DW: I played bass for 20 years in various bands in New York and on tour. I went through Oklahoma City, never played there though. Been through Tulsa, never played there. We were on our way; we couldn't get a gig. We didn't know the punk clubs.

HG: Punk clubs. . .?

DW: This was the early '80s.

HG: Did touring as a musician help you discover great craft cocktail bars?

DW: No, I was touring in the early '80s when I was in my early 20s. I liked cocktails back then and particularly things like martinis and Scotch and sodas because I could only really afford to drink in old man bars. If you went into those places and ordered a "woo woo" or something, they would look at you like you're something on the bottom of their shoe. But if you ordered a dry martini, they knew how to make them and that seemed like a normal order. It was all in the interest of looking normal for the bartender. Because if you look normal and fit in, they would buy you every third drink. So it was a powerful economic motivator for somebody who didn't have money.

HG: Where are those deals now?!

DW: Yeah, gone. Even here. It used to be customary in New York.

HG: So are any band recordings conveniently gone too?

DW: There weren't a lot. It was before everybody had home studios and all of that.

HG: In 1998 you were active on a website called Drinkboy. Several of those engaged on the site became industry-leaders. Did you realize that was the start of what's been dubbed the "cocktail renaissance"?

DW: No, it was just really fun to find people who liked to talk about this stuff.

And it wasn't really anybody's profession. Nobody had any idea that it would result in new bars opening that were dedicated to this stuff. It was a way of exchanging information—building our knowledge, but also venting about all the bad drinks that we kept getting.

Nobody had the idea, at least not that I know of, that it would build into a revolution.

HG: What did you vent about?

DW: You know, the indignities that our Manhattans would be subjected to and things like that. All we wanted was for our bartenders to spend a little more attention to mixing drinks. That was the thing that was wished for.

HG: Were there not any craft cocktail bars?

DW: There were people who were really good at it here and there. There were bars that insisted, but it was not prevalent and most cities didn't have one of those bars. I mean, I was in New York City. I was fairly lucky that there were, in fact, a few bars where you could get a great drink, but most places not so much.

HG: I've heard you're a fan of one of the most classic cocktails – the Sazerac. Do you ever order one at a bar to gauge the quality of their program?


DW:
I try not to put unrealistic tests on bars. I go in and I have a drink and, even in the fanciest bars, I usually just order something very simple. I'm kind of over the elaborate cocktail as a ritual.
I like Manhattans and martinis, then daiquiris in the summer. I'll order a Sazerac if the bar looks like they've got all the stuff to make it, but I don't really try to push the bar too far. Because it's not why I'm there. I no longer have to write the Esquire "Best Bars in America" every year, so I'm kind of in retirement from quality assessment of bars.

HG: Going back to the martini – do you have a go-to gin and what ratio do you prefer?

DW: Since high school, Tanqueray has been my gin of choice. Also Beefeater and Plymouth. . . and I like Hayman's Royal Dock Gin very much for making 50/50 martinis.

HG: Do you have a go-to dry vermouth?

DW: I'm not insanely picky about these things. Writing for Esquire for 17 years, made me very happy to use good national brands. I had to recommend things frequently and you have to recommend things that people can actually find. I usually use Noilly Prat.

HG: Do you think there will be another dark age of cocktails—a time where the craft regresses?

DW: It's tough to say. I mean, right now there's so much information out there that it's gonna be hard… Two things: one, it's gonna be tough to go back to plain ignorance because of used bookstores, if there still are such a thing, will be full of used drink books, most of them pretty competent. And then the Internet will have tons of stuff for those who want it. It depends on if people can evaluate it all.

I think there's room for a cocktail website that is fact checked. There's a new population of cocktail geeks who are fanatic about going into the databases and finding the original sources for things and getting the facts straight. I see a big opportunity in that—for an unassailable place where everything is documented and checked. That would get a lot of authority, especially if they busted some of the myths that are out there. I'm sure people are trying to do it, but nothing has dominated yet. If we have this conversation again in 10 years, I suspect there'll be something like that available.

HG: Is there a particular cocktail history you unearthed that you're most proud of?

DW: The big one for me was punch. That involved a lot of reading sailors' accounts and going to the British library and looking through the incredibly rare recipe and apothecary books. Discovering how primary punch was and getting into where it comes from, how it was diffused around the world, and how it came to underlie everything we drink today.

When I was writing Imbibe! on Jerry Thomas and his drinks, I noticed his book begins with a huge section of punches, but I quickly realized that those really didn't have a lot to do with him and seem to have been thrown in by his publisher because they all came from literary sources. Most of them with a few exceptions had been previously published. I needed to cut a lot of words from my manuscript, so I cut out the punch section and thought, "Well, I'll just turn that into a book. Easy. I'll make it a follow up book." But it turned out to not be easy because I had to do a lot of research on it. It took a couple of years.

There are other drinks that I've spent a lot of time researching such as the old fashioned. . . the term cocktail. The history of the cocktail itself is very complicated. And getting to the origins of that took quite an amount of research, but Punch was still the biggest lift.

HG: Speaking of punch, Cocktail Kingdom carries a David Wondrich punch bowl set as well as some other collections. How did those come about?

DW: When I started working seriously on Imbibe!, I realized that if I wanted to understand the recipes I had to know the tools. What were they using? How were they measuring? All that kind of stuff.

I started collecting bartender tools. I had a little bit of knowledge regarding the things actually used by bartenders, not fancy home mixing gear, which was still pretty cheap back then because most people didn't know what it was. So I started collecting, but my big rival in that was Greg Boehm who had a book publishing company, Mud Puddle Books. He was doing reprints of cocktail books and he eventually went into the bar gear business. (Cocktail Kingdom) He and I have stayed good friends. This collection came out of that friendship.

We said, you know, it would be nice to get some stuff made with the real materials, not stainless steel, but nickel silver as it was called, cupronickel, and these alloys that behave differently when you shake with them and all that kind of stuff. It was a chance to try to recapture some of the way things were made, some of the old technology.

HG: I appreciate that it's created for the sake of historical accuracy and not as a gimmick.

DW: I use the historical stuff because it's better. There was a chance to recapture some of that quality—some of the heft of the tools. Where they're not made out of thin, light steel. They're made out of some really substantial alloys. It was a chance to do that and also punch bowls. Nobody's made a punch bowl that's worth a damn in forever. Punch ladle and punch cups? Forget about it. So we got to bring back some useful tools, and we're working on a few more.

HG: You have built a reputation as a major influencer of cocktail culture. What's the story behind you popularizing Rittenhouse Rye?

DW: I helped them to get visibility back when it was a really obscure brand. Ted Haigh, Doctor Cocktail, turned me on to Rittenhouse. But, I got them to list it in New York when it wasn't available in New York, and it turned out to be a very good market for them.

HG: More recently, you collaborated on the Plantation O.F.T.D. Overproof Rum, which features an illustration of you on the label. Tell me more about that.

DW: It was something that Alexander Gabriel wanted to do and so he put together a group of his friends that knew something about rum. The Plantation Pineapple Rum was something I pushed him for years to take a try at because I was curious. And he was like, "Well, I don't know. I'll get around to it eventually." And then, he did and people couldn't get enough of it.

HG: I love a rum old fashioned with a split base of that Plantation Pineapple Rum and the O.F.T.D..

DW: Oh, that'll work! That stuff is like crack.

DW: For the O.F.T.D. he got his board together and we met at New Orleans during Tales of the Cocktail and tasted a bunch of components and made some suggestions. Then we all went to Cognac for the final blend and we spent the afternoon tasting, and nothing. Then we remembered that there was some good pot still rum that we had tasted, but it didn't really have anything to do with the project. We suggested putting some of it in and then it was like,
"Oh, O.F.T.D.—Oh, fuck. That's delicious!"
HG: So the story is true. It's not just a marketing ploy on the label?

DW: It's totally true. I was the one who shouted it.

HG: Speaking of rum, I've heard you're not a big tiki fan. . .?

DW: I'm not a tiki un-fan. I like tiki occasionally, I just don't have a closet full of tiki shirts. Tiki people tend to be only tiki people. I'm not one of them.

HG: You're the guest judge for Philbrook's MIX this year. What's your approach to judging?

DW: I always look for the simplest drink that's interesting. The more elaborate it gets, the more skeptical I get. I look for professional bartending, of course, and somebody who's confident behind the bar and doesn't put the burden of their nervousness on the judges. Basically, it's a holistic approach.

HG: Tulsa isn't thought of as a cocktail hub; however, cocktail culture is so prevalent that you can order a great cocktail in almost any city. Is there anywhere you plan on checking out while you're in Tulsa?

DW: I've long given up on that thinking about, "this place is a cocktail hub," or "this place isn't." I have no doubt that there are some great, world-class bars in Tulsa. There are world-class bars all over America, thank God. And from what I hear, Tulsa is a very pleasant place to live. So, I would be shocked if it didn't have some great bars to go along with that.

---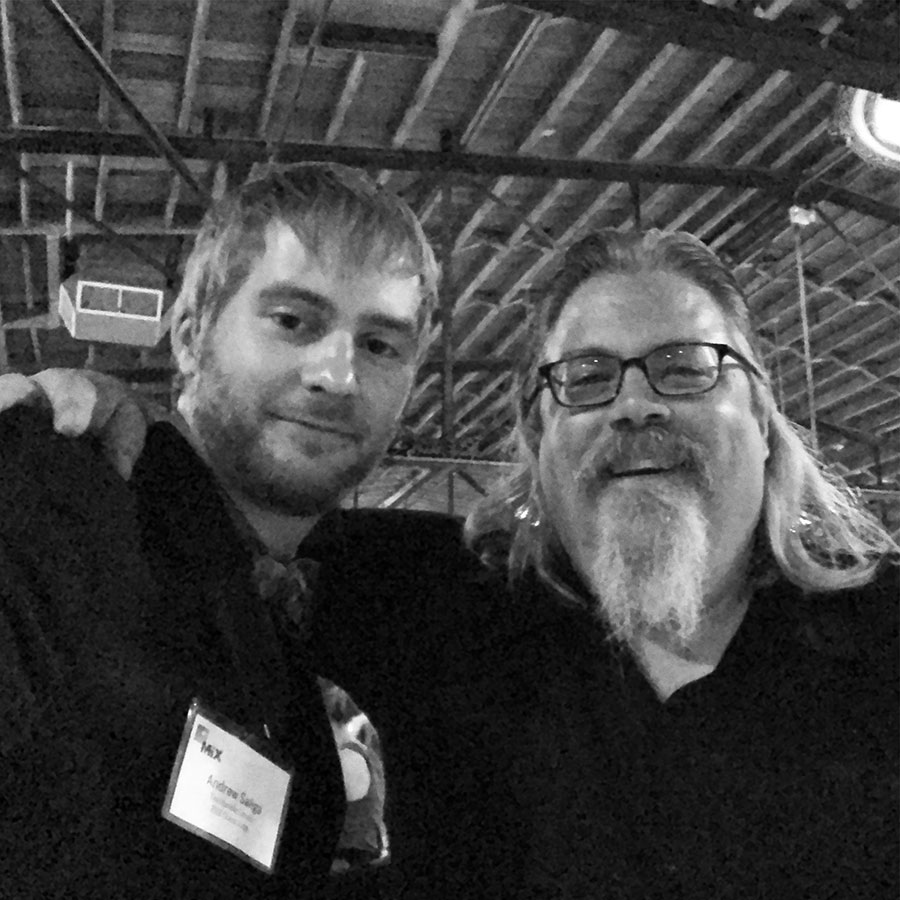 Despite being one of the most qualified people to judge MIX, Wondrich has no air of pretension. Confident in his knowledge, his demeanor is casual and direct with nothing to prove. Regardless, tensions will still be high for the competing bartenders.

The Philbrook's 7th annual MIX competition is Sept. 15, and tickets sales fund Philbrook educational programming and museum operations. In addition to the main event, Philbrook has added a more relaxed Friday House Party as part of their new Friday night programming. Both nights are sure to be incredible opportunities to enjoy the creations of Tulsa's world-class bartenders while supporting the world-class Philbrook Museum.
---
(The abridged version of this article was originally published in the 2018 September A Issue of The Tulsa Voice.)
---
Additional Resources:
David Wondrich Book Giveaway