Two commonly misunderstood ingredients (SUZE and absinthe) meet up in this Sazerac riff created by Gary Regan. Regan's goal was to simply re-imagine the what the Sazerac would be like if it was created in France instead of New Orleans. While our modern Sazerac opts to use rye as the base spirit, the NOLA classic began as a cognac cocktail.
Rather than using the customary Peychaud's bitters, Regan selected a combination of other liqueurs with bitter components that play to the French theme. Cointreau and SUZE are both French in origin as are many absinthes.
If you're trying to gradually introduce someone to the complex flavors found in absinthe and SUZE, the La Tour Eiffel is a great option because the bold flavors are present in small quantities and innocently served in a champagne flute.
Cheers!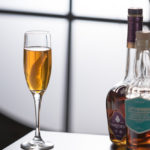 Print Recipe
La Tour Eiffel
Instructions
Rinse (

or mist

) the interior of a chilled champagne flute with absinthe.

Combine remaining ingredients in a mixing glass with ice and stir until chilled.

Strain cocktail into champagne flute and garnish with an expressed lemon twist.
---
Additional Resources:

Amber Glass Atomizers – 2 Ounce
Gary Regan guest post on Liquor.com – The Original Sazerac
Jeffrey Morgenthaler – "The Dos and Don'ts of Sazeracs
Gaz (Gary) Regan's Website
Letherbee – Charred Oak Absinthe Brun
SUZE – Official Site
Courvoisier – Official Site
Cointreau