When I come across a new ingredient or mixer I get excited, but in order to provide value it must pass at least one of two tests. Is the ingredient so unique in flavor that it is hard to replicate, and does purchasing it save me a significant amount of time by not making it myself? When I saw Barsmith Honey Ginger syrup on the grocery store shelf it caught my attention. The flavored simple syrup didn't seem hard to replicate, but I was drawn in by the description on the label calling their honey ginger syrup a "magical blend of sweetness and bite". When I crave ginger flavor, I want some bite, like Fever Tree's Ginger Beer which is so spicy that it often causes me to sneeze. This product seemed right up my alley.
Established in 2014 and with products first announced in January of 2015, Barsmith is a relatively new player in the craft cocktail market. Marketed as all-natural and non-GMO products created by craft bartenders in Nashville and Austin, Barsmith has credibility. The creative consultant and chief bartender of the brand, Robert Longhurst, is experienced in cocktail development and bar design and management. He has contributed his knowledge to several successful Nashville establishments.
Diving into the product itself, the first thing I check out are the ingredients. Barsmith's Honey Ginger contains water, cane sugar, honey, natural flavor, citric acid, and capsicum extract. While ginger isn't directly mentioned, it does contain capsicum extract. Capsicum is added to provide additional spiciness, as is often the practice with ginger ale and ginger beer. It's worth nothing that capsicum is not capsaicin, the active ingredient in pepper spray. Capsaicin is an organic compound found in chili peppers, which belong to the genus capsicum. In biological taxonomy, the genus capsicum simply refers to peppers. I assume that "capsicum extract" is or includes capsaicin, which the highest concentration occurs in the ribs and seeds of the pepper. (Good to know when you're cooking or making an infusion.)
But where is the ginger? Ginger falls under the "natural flavors" item in the ingredient list. The FDA defines natural flavors as "the essential oil, oleoresin, essence or extractive, protein hydrolysate, distillate, or any product of roasting, heating or enzymolysis, which contains the flavoring constituents derived from a spice, fruit or fruit juice, vegetable or vegetable juice, edible yeast, herb, bark, bud, root, leaf or similar plant material, meat, seafood, poultry, eggs, dairy products, or fermentation products thereof, whose significant function in food is flavoring rather than nutritional". Natural flavors are a broad category, and since ginger is a root, it is included.
Before making a drink with the syrup I wanted to taste it by itself. Being a simple syrup I expected sweetness, and was hoping for more of a spicy kick from the ginger. I wouldn't call it a "magical blend of sweetness and bite", but that doesn't mean it wouldn't be good in a cocktail. I chose to make the recipe featured on the bottle as it's sure to highlight the product well. Their bottle features a Moscow Mule recipe that is as follows: two ounces of vodka, one ounce of Barsmith Honey Ginger, a squeeze of lime, and topped with sparkling water or ginger beer/ale. I made this recipe with one small twist, I used Square One Bergamot (orange infused) Vodka. I also chose to use Fever Tree Ginger Beer to top it off. The cocktail was good, but too sweet for my palate. If I were to make the cocktail again, I'd use less of the syrup or use sparkling water instead of a ginger beer to make it less sweet.
I think that Barsmith Honey Ginger is a quality product, but at $6 for a fairly basic 375ml bottle of simple syrup I don't think I could recommend it. In my opinion, suggesting the consumer use the syrup in addition to a ginger beer or ginger ale in a Moscow Mule shows the lack of ginger flavor. Why not just use a standard simple syrup or honey syrup and a ginger beer or ale that has the ginger kick? Determined to have a spicy simple syrup, I've been dabbling at home this week. Check back soon for my results along with a recipe for homemade honey ginger simple syrup that provides what my palate considers a better balance of honey sweetness and ginger spiciness.
Cheers!
---
Tool Suggestion:
While this recipe doesn't require many tools, it's often the small inexpensive items that you use consistently which can make imbibing at home so much simpler. I've changed my recommended spoon and jigger since originally posting this recipe. You can find links to them below. Cheers!
Jigger
Bar Spoon
Paring Knife
Chef'n FreshForce Citrus Juicer
---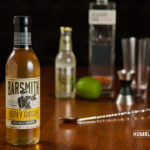 Print Recipe
Bergamot Moscow Mule
A slight variation of a standard Moscow Mule that features Barsmith's Honey Ginger syrup and Square One Bergamot Vodka.
Ingredients
2

ounces

vodka

Square One Bergamot

1

ounce

Barsmith Honey Ginger

ginger beer

Fever Tree preferred

lime
Instructions
Fill highball glass with ice and add 2 ounces of vodka.

Add 1 ounce of Barsmith Honey Ginger and squeeze of lime. (less than .25 ounce)

Stir and then top with ginger beer.

Garnish with a lime wedge.
---
I created The Humble Garnish because I'm passionate about cocktails. Occasionally, I am provided with products for review or other perks. Many product links on this site are affiliate links that give me a very small kickback, and costs the buyer nothing extra. For example, as an Amazon Associate, I earn from qualifying purchases after a link leading to Amazon is clicked. Other links may earn me affiliate commissions as well. This helps offset the cost of creating content for the site – things like camera gear, software, alcohol, glassware. I have at times accepted and at other times declined free products. I promote what I love and use, and rarely will write about a product that I don't appreciate or own. If I don't like a product or service, I often simply choose not to write about it.

– Andrew