Hella Bitters & Soda isn't the first product I've reviewed from the ever-expanding Hella Cocktail Co. When I met their founders back in 2016, bitters were their only product. Since then, their brand has expanded to include a full lineup of bitters, mixers, and canned bitters and soda. Since their rebrand from Hella Bitters to Hella Cocktail Co., their growing product line continues their tradition of using only premium ingredients that are fresh and free from artificial additives—something much of their competitors cannot say.
Hella Cocktail Co. initially launched their Bitters & Soda line with the Dry Aromatic and the Spritz Aromatic. The only difference between the two is that the Spritz is sweetened (21g sugar per serving) while the Dry is unsweetened. In October 2020, Hella expanded their lineup to include Ginger Turmeric, Grapefruit, and Lemon Lime flavors. With many looking for ways to be more mindful of their alcohol consumption, Hella Bitters & Soda is the perfect solution that doesn't sacrifice quality for convenience.
To many, bitters and soda may be a foreign concept, but this simple combination is commonplace to bartenders and cocktail enthusiasts. The addition of a few dashes of your favorite cocktail bitters to a club soda, or better yet, a Topo Chico, is the perfect solution to a night of overindulgence or simply when you're looking to cut back or slow down.
Hella Bitters & Soda is non-alcoholic (legally different than alcohol-free) but does contain a trace amount (<0.5% ABV) of alcohol from the bitters. This amount is negligible and the same amount you'd find in kombucha. They're intended to be consumed as is, but they do lend themselves to mixing with a variety of base spirits. Hella encourages this experimentation and features several Hella Bitters & Soda spritz recipes on their site. However, if you'd like to stay in the non-alcoholic realm, there are zero-proof recipes as well.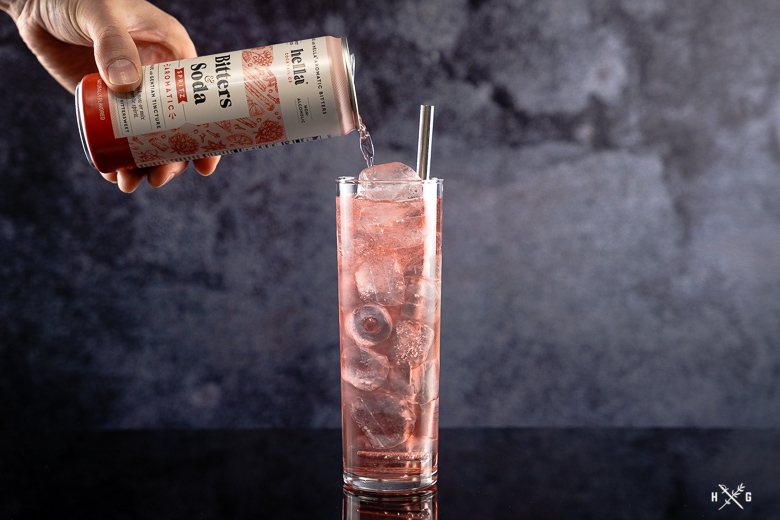 At their core, all the Bitters & Soda flavors share a common element—Hella Aromatic Bitters. In addition to the gentian present in the aromatic bitters (a sub-ingredient in all their Bitters & Soda), they use a gentian root extract in different quantities for each formulation. As a big fan of SUZE (a French gentian liqueur), I'm all for that added dryness. Using the Bitters & Soda Dry Aromatic as a template, natural flavorings are added to create the other three flavors.
One thing I found particularly interesting is that the ingredient list fully breaks down the components of their aromatic bitters recipe, something you do not see on their bottled bitters. Hella Aromatic Bitters' ingredient list only includes water, alcohol, caramel, gentian, wormwood, and roots and spices. My hunch is this is due to different legal requirements for the labeling of a beverage versus a non-potable liquid such a cocktail bitters.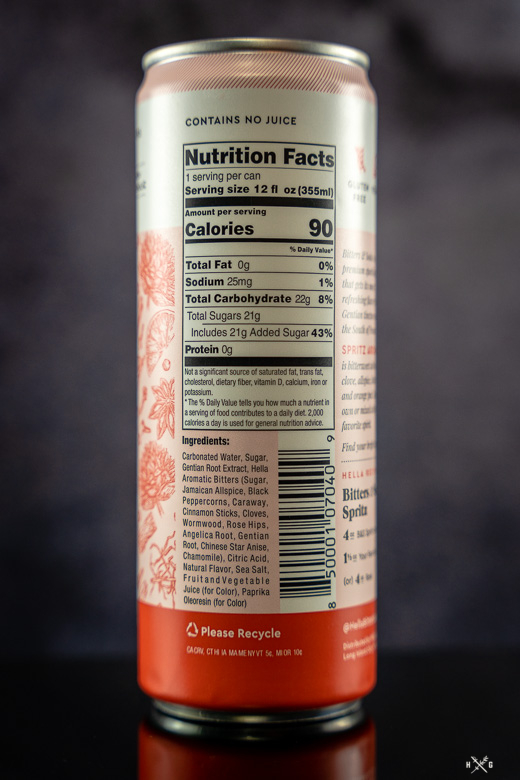 Their classic aromatic bitters recipe includes Jamaican allspice, black peppercorns, caraway, cinnamon, clove, wormwood, rose hips, angelica root, gentian root, Chinese star anise, and chamomile.
Call me a traditionalist, but I'm personally a fan of the Dry. While the Spritz has less sugar than a soda, I find it to be a bit too sweet for my palate. The Ginger Turmeric, Grapefruit, and Lemon Lime are unsweetened, so if you prefer that bit of sweetness, opt for the Spritz or mix up a zero-proof cocktail recipe that includes some simple syrup.
Hella Bitters & Soda is available at Amazon, Whole Foods, Walmart, and several other grocery stores. At $36 for a 12-pack, they are fairly priced and comparable to other products in the category. I recommend Hella Bitters & Soda for any occasion since it's perfect as-is while also playing well with others—sometimes the best cocktail is the simplest one. I only wish they offered them in a variety pack.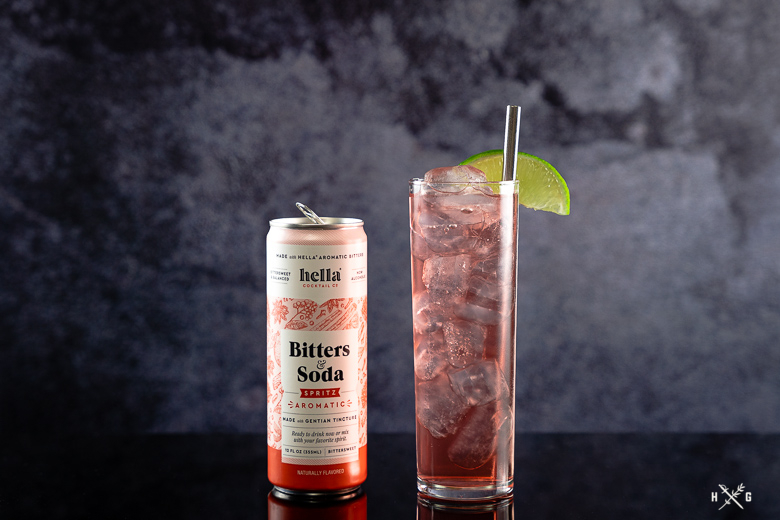 ---
Additional Resources
Purchase Links for Hella Bitters & Soda
Official Sites
Find Hella on Social Media
Miscellaneous
---
I created The Humble Garnish because I'm passionate about cocktails. Occasionally, I am provided with products for review or other perks. Many product links on this site are affiliate links that give me a very small kickback, and costs the buyer nothing extra. For example, as an Amazon Associate, I earn from qualifying purchases after a link leading to Amazon is clicked. Other links may earn me affiliate commissions as well. This helps offset the cost of creating content for the site – things like camera gear, software, alcohol, glassware. I have at times accepted and at other times declined free products. I promote what I love and use, and rarely will write about a product that I don't appreciate or own. If I don't like a product or service, I often simply choose not to write about it.

– Andrew