As we age, our palates change, and whether that's due to physiology or simply preference is akin to the nature versus nurture debate. Reality is likely a combination. Sometimes we call certain tastes "acquired" and research suggests that there is a baseline amount of exposure to a new flavor that must occur before it becomes preferred. Developing a palate for the bitter notes of hops in beer or the bitter acidity in black coffee are two prime examples. Around the age of 40, taste buds cease regenerating at the rate they once did. For those of us that are heavily invested in food and drink out of personal enthusiasm or as a primary means of income, this is a daunting reality. Luckily, research shows that those actively engaging the olfactory regions of the brain can strengthen its ability despite having less receptors.
An appreciation for bitter flavors may seem to correlate with age, but may be more closely linked to culture. Amari (bitter liqueurs) often come from Italy or France, but there seems to be no cultural American counterpart. As my palate has changed and expanded I've abandoned my preference for sweet and now gravitate towards the complex and bitter flavors of many of these amari. A small pour of Montenegro neat with an expressed lemon peel is a favorite go-to when I don't feel like making a cocktail, but want something other than whiskey. However, the latest golden child in my home bar is SUZE.
SUZE is a French liqueur dating back to 1889 that is heavily flavored by gentian root. If you're not familiar with gentian root, I assure you that you've had it – it's a primary ingredient in cocktail bitters. Gentian is dry, earthy, and woody. It's sweet citrus and floral on the nose, but in the finish it has a dryness that is reminiscent of licking a plank from an old barn door that has been aged by decades of the sun drying out its fibers. Gentian has a history in herbal medicine as a means of stimulating digestion and treating fever and muscle spasms, just to name a few uses. However, studies have failed to prove the efficacy of gentian for these purposes. Luckily, we have modern medicine and can enjoy SUZE purely for pleasure. Chartreuse may have the claim to fame as being the only spirit with a color named after it, but SUZE has the high honors of being featured in a painting by Picasso, "Verre et bouteille de SUZE" (Glass and Bottle of SUZE). As a primer to SUZE, here are three featured cocktails that demonstrate SUZE's ability to meet you where your palate is.
---
Rib Tickler Spritz
The simplest introduction to SUZE cocktails is the Rib Tickler Spritz by Alex Day of Nitecap. It's a refreshing riff on a white negroni that has enough additional flavors that I think even someone on a strict margarita diet could appreciate.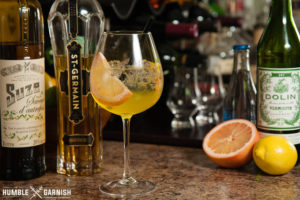 Rib Tickler Spritz
Instructions
Combine ingredients except for the club soda in a wine glass filled with ice and stir.

Top with chilled club soda and stir briefly to combine.

Garnish with a grapefruit wedge.
---
Earl Grey White Negroni
The second cocktail is another white negroni variant which I created, but am certain is not original. I've seen many ratios for the standard white negroni, but I settled on the version by Dutch Kills and modified it by infusing the Dolin Blanc with loose leaf Earl Grey tea. I decided to have fun with the presentation and use a Bodum double-walled insulated tea cup and garnish with an orange peel to accent the Bergamot in the tea.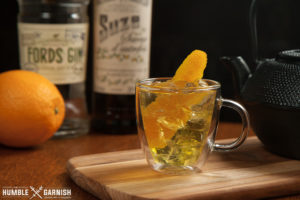 Earl Grey White Negroni
Ingredients
1½

ounces

Ford's gin

¾

ounce

SUZE

¾

ounce

Earl Grey-Infused Dolin Blanc

orange peel
Instructions
Combine ingredients in mixing glass filled with ice and stir until chilled.

Strain into rocks glass filled with ice and garnish with an orange twist.
Earl Grey-Infused Dolin Blanc
Instructions
Steep tea in Dolin Blanc at room temperature for 45 minutes.

Strain and bottle.
---
Old Love
The final featured SUZE cocktail is from Nathan Young of Hodges Bend. In the Old Love, SUZE isn't the primary spirit, but it takes a dominant role. The Old Love has some profile similarities to a Sazerac with the absinthe and Peychaud's, but is unique enough that it's more than a riff. I find this cocktail works well with Death's Door gin or even Apostoles Mate gin. I've even had it with Magellan Iris gin. I think the main consideration is to choose a gin with some bold botanicals rather than a London Dry style, making Death's Door an ideal candidate.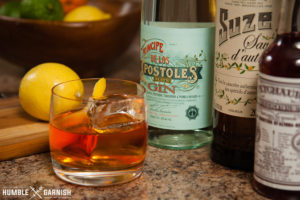 Old Love
Old love... the bitterness is present, but you may still find a bit of satisfaction basking in those memories. This cocktial can be considered a riff of the classic Sazerac.
Ingredients
2

oz.

gin

(Death's Door or Apostoles preferred)

1

oz.

SUZE

4

dashes

Peychaud's Bitters

absinthe mist

lemon twist

(garnish)
Instructions
Combine ingredients in mixing glass filled with ice and stir until chilled.

Strain into rocks glass filled with large ice cube and garnish with a lemon twist and a mist of absinthe.
In conclusion, no post on a bitter ingredient like SUZE is complete without a tip of the hat to Sother Teague, of Amor y Amargo. Sother's bar is a bitter-centric cocktail bar and his suggestion for SUZE is 1:1 with Genever and a dash of lavender bitters. How are you drinking SUZE? What are your thoughts on these cocktails or others you have found? Give me a shout on social media and let's chat about it.
Want More Recipes? Check out the Door #2 by Nate Young of Hodges Bend or the Black Rock Chiller by Sother Teague!
Facebook
Instagram
Twitter
Snapchat – @HumbleGarnish
Cheers!
[divider type="double-dotted" color="gray"]
Additional Resources:
Wikipedia – SUZE
Bon Appetit – What is SUZE?
Do Your Taste Buds Change Every 7 Years?
Bon Appetit – How Our Sense of Taste Changes As We Age
Sother Teague's at 2016 Tales of the Cocktail
Death & Co: Modern Classic Cocktails
Spritz: Italy's Most Iconic Aperitivo Cocktail, with Recipes