The flavors found in coffee blend well with spirits, but too often coffee cocktails come out tasting diluted. Finding the proper balance between the base spirit and the coffee can be a game of cat and mouse. Fortunately, there is a simple solution.
One of the more common methods to level the "flavor playing field" is to make an infusion. Infusions certainly are one path, but I've found the most balanced coffee cocktails I've had come from some form of concentrated coffee. This could be a shot of espresso or literally coffee concentrate, which is not to be confused with cold brew. Bottled cold brew can be a tempting ingredient for the cocktail enthusiast, but it generally will result in diluted drinks. Coffee concentrate is the precursor to cold brew – it's made by grinding coffee to a coarse grind, extracting it for 12-24 hours, then draining it into a carafe. This forms the concentrate that good (proper) cold brew is made from. At home I prefer to use the
OXO Cold Brew Coffee Maker
. It's simple to use and makes a large batch of the smoothest coffee concentrate I've ever tasted. Espresso or coffee concentrate will allow a burst of coffee flavor while only adding a small quantity of liquid. This allows the coffee flavor to be present along with the flavors of the base spirit.
It wasn't until recently that I came up with a coffee cocktail that I had enough faith in to bottle and share with some barista friends. It's worth noting that this cocktail can vary somewhat drastically based on the coffee concentrate that is used. Just as standard coffee will taste different based on the region, processing method, and roast, coffee concentrate will too. In addition to the choice in coffee concentrate, I've found a few spirits that work particularly well with coffee. Añejo tequila which is required to be aged for a minimum of 12 months will have vanilla and cacao notes that pair well. A Torino style sweet vermouth like
Cocchi Vermouth di Torino
will add another layer of cacao, bitter orange, and rhubarb. This vermouth is similar to the highly regarded Carpano Antica, and for right reason – Carpano Antica is a Torino style vermouth with added vanilla.
This cocktail is a riff on the classic Negroni, with tequila and coffee replacing the gin. Again, using a Torino style vermouth and an aged tequila is essential to creating this cocktail. Flavors of coffee, cacao, orange, and vanilla meld to make something that is truly unique and guaranteed to impress the coffee, tequila, or Negroni enthusiast.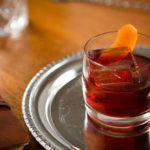 Print Recipe
La Terra Rojo
Ingredients
1

ounce

Cocchi Vermouth di Torino

1

ounce

Campari

¾

ounce

añejo tequila

¾

ounce

coffee concentrate

recipe and purchase link in notes

1

dash

of orange bitters

orange peel for garnish
Instructions
Combine ingredients in mixing glass filled with ice and stir until chilled.

Strain into rocks glass over ice.

Garnish with expressed orange peel.
---
Additional Resources:
OXO Cold Brew Coffee Maker
– I personally use this and love it. If I'm not buying the beans from DoubleShot Coffee Company to make this, I'm buying their concentrate. OXO's improved mini model is awesome too. If I had one issue with the large 32 ounce model, it's that all the components take up so much space. The
OXO Compact Cold Brew Maker
fixes that.